Hung vows to carry on the fight
'REALLY SICK': Hung lamented what she said was the public's inability to maintain its 'inherent kindness' when dealing with politicians and said she would 'fight for her faith'
Chinese Nationalist Party (KMT) presidential candidate Hung Hsiu-chu (洪秀柱) yesterday said she would never give up her bid for the presidency and promised to fight for her beliefs until the end, concluding a surprise three-day hiatus in campaigning that sparked speculation she was considering throwing in the towel.
Speaking at a news conference in Taipei, Hung said she would continue to be brave and outspoken despite the tough challenges that lie ahead, adding she hoped that "all the rumors and speculation will end here."
Hung said she has always considered her main rival to be Democratic Progressive Party presidential candidate Tsai Ing-wen (蔡英文).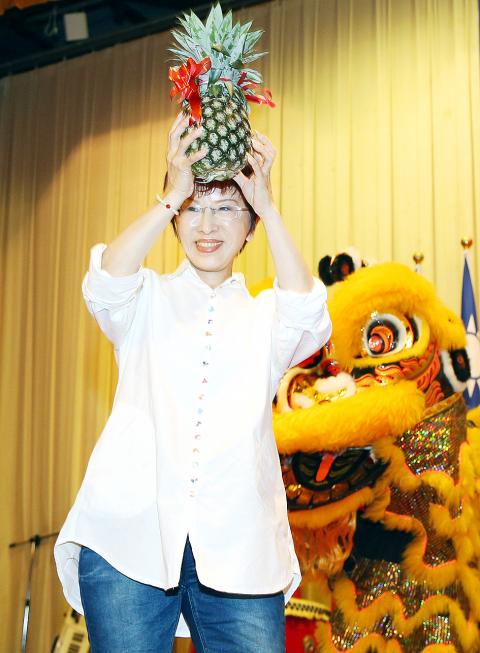 Chinese Nationalist Party (KMT) presidential candidate Hung Hsiu-chu holds up a pineapple — a symbol of good luck — at an event held by Hung supporters of Shandong ancestry in Tapei yesterday.
Photo: CNA
Some polls have indicated that if People First Party Chairman James Soong (宋楚瑜) were to become Hung's running mate, she might have a chance of defeating Tsai, who the majority of polls say is backed by 40 percent of the electorate.
"With a woman's selflessness and kindness, I look to end populism and political wrangling between the pan-blue and pan-green camps in the presidential election against Tsai," Hung said.
"Taiwan is really sick," she said, adding that the inherent kindness of Taiwanese "disappears" whenever politics is concerned, and the public should unite to build a society based on trust.
Hung said the root of the illness is in politics and "especially we who are in politics," because politicians have set "a very bad example" for the public.
A lot of politicians do not know what "integrity" means and go so far as to deny its existence, Hung said, asking: "Why does society condone this?"
The "shameless remarks" of former president Lee Teng-hui (李登輝) have betrayed Taiwan, but he still has the support of the pan-green camp, Hung said, apparently referring to Lee's statement that the Diaoyutai Islands (釣魚台) — which Taiwan also claims — belong to Japan.
Hung said Tsai and Soong are Lee's heirs apparent, as both went to Lee's 90th birthday celebration.
The nation's politics have been held hostage by populism, while the voice of reason is getting weaker, she said.
The public has either opted to "fight [against China]," or "drag its feet" on cross-strait relations, and does not want to seriously address the reality of the relationship that is so crucial to the future of Taiwan, she said.
Next year's Jan. 16 presidential election represents a choice between the "integrity versus hypocrisy" of the nation's leader, "rationality and populism" with regard to domestic policy and "peace and avoidance" over cross-strait ties, she said.
Hung also elaborated on her remarks about the defeatism that she said has permeated the KMT, which she attributed to the demoralizing effect of the party's drubbing in the nine-in-one local elections in November last year.
Although some in the KMT might think she is not one of the party's heavyweights, she said would "fight for my faith to the end."
Ethical politicians should become the norm once again and she wants to transform the party so that the public can regain its trust in it, she said.
Comments will be moderated. Keep comments relevant to the article. Remarks containing abusive and obscene language, personal attacks of any kind or promotion will be removed and the user banned. Final decision will be at the discretion of the Taipei Times.