KMT to discuss discipline against Lien
'RED GHOST': Protesters met Lien Chan on his return from attending China's military parade, including one who tried to throw a shoe at him
Chinese Nationalist Party (KMT) Chairman Eric Chu (朱立倫) yesterday said that former vice president Lien Chan's (連戰) attendance at a Chinese military parade would be referred to the party's disciplinary committee "for discussion."
Responding to some KMT members' call for disciplinary actions against Lien, who attended the military parade marking the end of World War II in Beijing on Thursday against the party's wishes, Chu reiterated that the party was committed to upholding the truth about the Republic of China government's role in the war and had instructed party officials not to attend the parade.
"As for some [retired] senior party officials and individual party members [who attended the parade], there are differing opinions within the party [about the issue]. Since the KMT is a democratic party, we will, in line with these opinions, have their cases referred to relevant units, such as the party's Evaluation and Discipline Committee or the Central Standing Committee, for discussion," Chu said.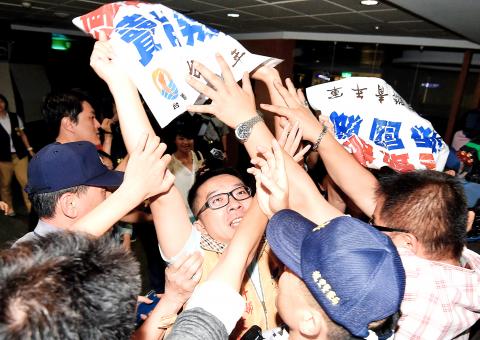 Taiwan Solidarity Union youth director Chang Chao-lin, center, holds up a banner during a protest at Taiwan Taoyuan International Airport yesterday against former vice president Lien Chan's attendance at the Chinese military parade upon Lien's return to Taiwan yesterday.
Photo: Chu Pei-hsiung, Taipei Times
KMT Legislator Kung Wen-chi (孔文吉) on Thursday voiced his strong opposition to Lien's actions, demanding that the party "impose disciplinary measures ... to demonstrate the party's stance."
He toned down his criticism yesterday, saying he did not want to elaborate on his views for fear of the consequences, but reiterated that party headquarters should take disciplinary action, the severity of which should be decided by party officials, to clarify the party's stance.
KMT Legislator Huang Chao-shun (黃昭順), director of the party's disciplinary committee, said the committee operates through a collegial model, so a decision would have to be made based on a consensus.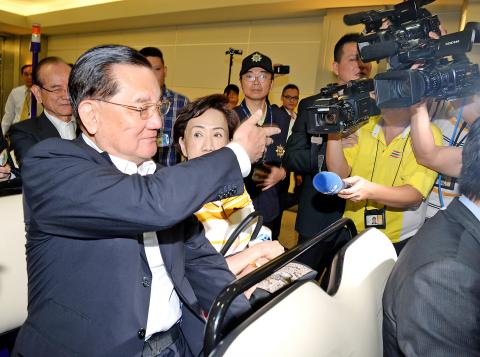 Former vice president Lien Chan, left, raises his arm for silence when questioned by reporters upon his arrival at Taiwan Taoyuan International Airport on Thursday.
Photo: CNA
Lien returned to Taiwan late on Thursday and was met with protests from members of the Taiwan Solidarity Union Youth League and other pro-independence groups at Taiwan Taoyuan International Airport.
Demonstrators held up banners that read: "Traitor Lien Chan" and "Lien is a Red Ghost," shouted slogans such as "Lien has sold out his country" and demanded that his pensions be cut off.
The group clashed with the police when they tried to break through the cordon and someone attempted to throw a shoe at Lien. They were forced out of the terminal, where they held a press conference to continue their protests.
"Anyone has the right to kill" a traitor to the nation, they said, a play on Lien's comments in 2004 when he said "anyone has the right to kill a cheat," implying that former president Chen Shui-bian (陳水扁) cheated and won in the wake of the election-eve shooting that year.
Comments will be moderated. Keep comments relevant to the article. Remarks containing abusive and obscene language, personal attacks of any kind or promotion will be removed and the user banned. Final decision will be at the discretion of the Taipei Times.