IS beheads Syrian antiquities expert Khaled al-Asaad
Islamic State (IS) militants beheaded one of Syria's most prominent antiquities experts in the ancient town of Palmyra, then hung his body from one of the town's Roman columns, Syrian state media and an activist group said yesterday.
The killing of 81-year-old Khaled al-Asaad was the latest atrocity perpetrated by the militant group, which has captured one-third of Syria and Iraq, and declared a self-styled "caliphate" on the territory it controls.
According to Syrian news agency SANA and the Britain-based Syrian Observatory for Human Rights, al-Assad was beheaded on Tuesday in a square outside the town's museum.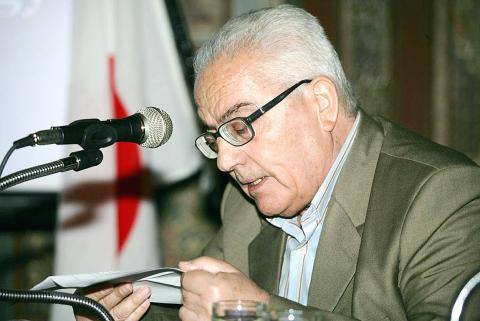 Archaeologist Khaled al-Assaad speaks at a news conference in Syria in an undated photograph released yesterday.
Photo: AFP
The Observatory, which has a network of activists on the ground in Syria, said dozens of people gathered to witness the killing.
Al-Asaad had been held by the Islamic State for about a month, it said.
His body was then taken to Palmyra's archaeological site and hung from one of the Roman columns, Maamoun Abdulkarim, head of the Antiquities and Museums Department in Damascus, told SANA.
Al-Asaad was "one of the most important pioneers in Syrian archaeology in the 20th century," Abdulkarim said.
The Islamic State — formerly known as the Islamic State of Iraq and the Levant — had tried to extract information from him about where some of the town's treasures had been hidden to save them from the militants, Abdulkarim said.
SANA said al-Asaad had been in charge of Palmyra's archaeological site for four decades until 2003, when he retired. After retiring, al-Asaad worked as an expert with the Antiquities and Museums Department.
Al-Asaad, who held a diploma in history and education from the University of Damascus, wrote many books and scientific texts either individually or in cooperation with other Syrian or foreign archeologists, SANA said.
Among his titles are The Palmyra sculptures and Zenobia, the Queen of Palmyra and the Orient.
"Al-Asaad was a treasure for Syria and the world," Khalil Hariri, al-Asaad's son-in-law, who works at Palmyra's archaeological department, told reporters by telephone from the central Syrian city of Homs. "Why did they kill him?"
"Their systematic campaign seeks to take us back into pre-history, but they will not succeed," he said.
Hariri, who is married to al-Asaad's daughter, Zenobia, said his father-in-law had been a member of Syrian President Bashar al-Assad's ruling Baath party since 1954. Hariri added that Khaled al-Asaad is survived by six sons and five daughters.
Comments will be moderated. Keep comments relevant to the article. Remarks containing abusive and obscene language, personal attacks of any kind or promotion will be removed and the user banned. Final decision will be at the discretion of the Taipei Times.