DPP threatens economic growth: Hung
'RESISTANT FORCE': Chinese Nationalist Party presidential candidate Hung Hsiu-chu said that the Democratic Progressive Party is unable to maintain cross-strait peace
Chinese Nationalist Party (KMT) presidential candidate Hung Hsiu-chu (洪秀柱) warned of the possibility of losing the Chinese market if the Democratic Progressive Party (DPP) wins next year's presidential election, while describing anti-curriculum protests as irrational and anti-openness, after she was invited by the Want Want China Times Media Group to speak at the "Cross-strait Peace and Wealth Creation Forum,"
Hung said in a speech that "Taiwan's economic development could not live without China's participation, which is a fact that cannot be changed regardless of which party takes over the presidential office."
Addressing China's Taiwan policy, Hung said: "Adversarial diplomacy cannot [help Taiwan] on the [international stage], but as long as [China] promotes the idea that the 'two sides of the Taiwan Strait are one family,' it should support Taiwan's participation in non-political international organizations, rather than boycotting and compressing it."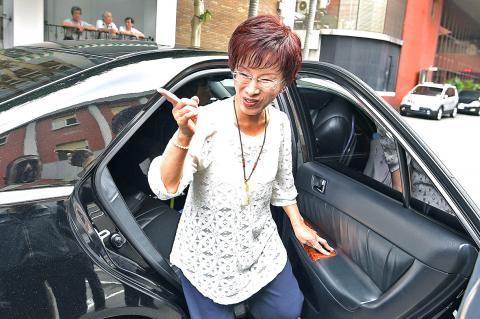 Chinese Nationalist Party (KMT) presidential candidate Hung Hsiu-chu steps out of a car as she arrives at a Taipei Teachers' Association meeting in Taipei yesterday.
Photo: Chen Chih-chu, Taipei Times
Asking the public to recall an increase in cross-strait tensions, and a deterioration of Taiwan-US relations during former president Chen Shui-bian's (陳水扁) governance, Hung said her memory of such events is still fresh.
"These experiences taught us that the DPP cannot maintain peaceful and stable cross-strait relations and that Taiwan might lose the option of benefiting from the Chinese market if the DPP wins the presidential election," she said.
"We need to join the TPP [Trans-Pacific Partnership], but we should not reject the chance of joining [China's] 'One Belt, One Road,' the Asian Infrastructure Investment Bank and other projects that encourage cross-strait union in terms of economics and trade," Hung said.
"However, stability and peace are necessary. This is the main reason why I am running for president," she said. "There exists a resistant force in cross-strait relations and if we cannot construct a stable framework for peaceful development, relations might come to a halt or even encounter a setback."
Hung said that cross-strait relations have entered a "deep-water zone" in which "the strategy of separating [talks] related to politics and economics is no longer sufficient for dealing with cross-strait development."
"Political and economic progress of both easy and difficult [tasks] is a necessary route," she said. "That is why I support seeking a cross-strait political consensus on the foundation of 'overlapping sovereignty claims, separate constitutional governance and the signing of a cross-strait peace agreement under the principles of abiding by the [Republic of China] Constitution, equality, dignity and popular support."
"It is unfortunate that an atmosphere of irrationality has been festering in Taiwanese society. From the curriculum protests to the obstruction of cross-strait agreements, theses actions are leading the nation down a road full of anti-peace, anti-liberation and wealth creation obstructions," Hung said, adding that there is a need to "fight against this countercurrent."
Tsai Eng-meng (蔡衍明), chairman and founder of the group that organized the forum, in his opening speech, also criticized what he said is a prevalent "anti-China" sentiment in Taiwan.
"Taiwanese should not possess an anti-China sentiment, as most of our ancestors came from [China]," said the businessman, who often speaks openly of his pro-Beijing sentiment.
"To view it objectively, there is no deep hatred between Taiwanese and the [Chinese] Communist Party [CCP]. It was the KMT and the CCP who fought a civil war in Mainland China, and Taiwanese arguably were the outsiders. Now the KMT and the CCP have reached conciliation; regrettably we Taiwanese, who were only the audience, have not walked out of the theater," Tsai said.
"Maybe it was because during the authoritarian period [in Taiwan] the KMT taught us to fear and hate the communists, and it was so successful that some of us are still harboring the fear and hatred, which has now become anti-China sentiment," Tsai added. "So it can be said that we are all loyal disciples of former president Chiang Kai-shek (蔣介石), but do not forget that the Chiang family also educated us to be proud Chinese."
Echoing a concept touted by Chinese leaders that "the two sides of the Taiwan Strait are one family," — which is also part of Taipei Mayor Ko Wen-je's (柯文哲) "2015 New Point of View" — Tsai said the idea means "we are all members of the same country" and is the "true content of the [so-called] 1992 consensus."
Tsai said the concept has garnered wide recognition in Taiwan because it is a sentence that Taiwanese can "understand with feelings," and called on the Chinese government to use such "understandable and emotional" explanations to describe its Taiwan policy.
Comments will be moderated. Keep comments relevant to the article. Remarks containing abusive and obscene language, personal attacks of any kind or promotion will be removed and the user banned. Final decision will be at the discretion of the Taipei Times.