Dozens stage bra protest in HK over 'breast assault'
Dozens of people including men wearing bras yesterday staged a protest in Hong Kong after a woman was sentenced to three-and-a-half months in prison for "assaulting" a police officer with her breast.
About 100 people gathered for the lighthearted "breast walk" protest outside police headquarters in the Wan Chai District, with some holding up bras and others wearing them over their tops.
"We better watch out as one day police might accuse us of attacking with our penis or buttock," a topless male activist wearing a black bra told the crowd.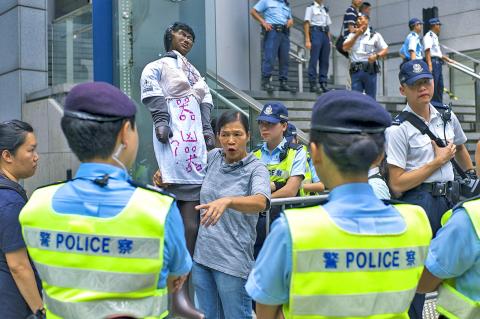 An activist holding up an inflatable doll yells slogans at a protest outside police headquarters in Hong Kong yesterday.
Photo: EPA
Retired teacher and spokesman for the Hong Kong Professional Teachers' Union James Hon (韓連山), 66, wearing a pink bra over his white polo shirt, told reporters: "It's the first time to wear a bra in my entire life."
"We have come to this rather odd method to tell the world how ridiculous it is," he said.
The crowd chanted "Breasts are not weapons — give back our breast freedom" and "Shame on police" as a representative handed a petition letter to a police officer.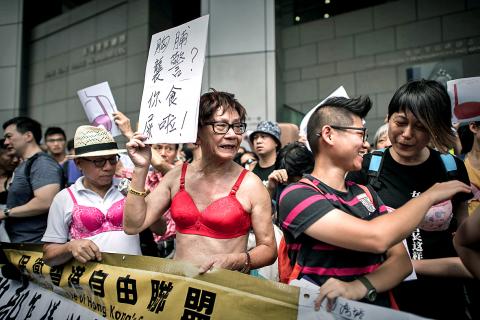 Protesters wearing bras participate in a rally outside police headquarters in Hong Kong's Wan Chai District yesterday.
Photo: AFP
Ng Lai-ying (吳麗英), 30, was sentenced on Thursday for "assaulting a police officer" during a chaotic protest against mainland Chinese cross-border traders in March.
The clerk was found guilty of using her chest to bump against the arm of Hong Kong Police Force Chief Inspector Chan Ka-po (陳嘉寶). She was released on bail pending an appeal.
"The ruling is absurd. How can breasts be a weapon? We are angry, but we also fear that this precedent exploits women's rights to take part in protests," Ng Cheuk-ling, an activist from Hong Kong Women's Coalition on Equal Opportunities, told reporters.
"Police must review their guidelines to handle female protesters," Ng Cheuk-ling said.
Ng Lai-ying had previously told the court that she yelled "indecent assault" out of fear immediately after Chan's hand landed on her left breast when he failed to grab the strap of her bag, the South China Morning Post reported.
However, Magistrate Michael Chan Pik-kiu (陳碧橋) said she "used her female identity to trump up the allegation that the officer had molested" her, calling that a malicious act and harming the officer's reputation, the Post reported.
A massive influx of millions of Chinese tourists to Hong Kong prompted protests early this year by residents, who say the visitors have driven up shop rent and prices, leading to clashes with police and arrests.
Hong Kong opened up to Chinese tourists in 2003 in a bid to revive its economy after an outbreak of the respiratory disease SARS, allowing mainland Chinese to visit as individual travelers rather than as part of an organized tour.
Comments will be moderated. Keep comments relevant to the article. Remarks containing abusive and obscene language, personal attacks of any kind or promotion will be removed and the user banned. Final decision will be at the discretion of the Taipei Times.