Group blames minister for death
DESPERATION: Filmmaker Yang Ya-che cited three suicides since 2010, saying they indicate the repression of society and the government is taking a toll on the nation
Northern Taiwan Anti-Curriculum Changes Alliance convener Chu Chen (朱震) accused Minister of Education Wu Se-hwa (吳思華) of "dereliction of duty," saying that the minister has made the students bear criminal liabilities and cost a student's life "just to help the ministry clean up the mess it has made."
Alliance spokesperson Dai Lin (林冠華) was found dead yesterday in an apparent suicide.
Chu said outside the New Taipei City Mortuary Parlor — where an autopsy was performed on Lin's body — that in addition to criticism and opposition by the public, the alliance has faced pressure from the ministry.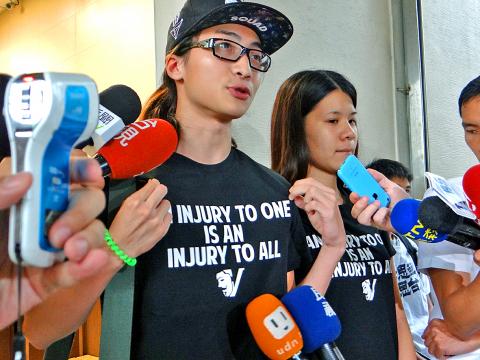 Northern Taiwan Anti-Curriculum Changes Alliance convener Chu Chen talks to reporters in Taipei yesterday wearing a T-shirt that comments on the treatment of student protesters.
Photo: Hsu Sheng-lun, Taipei Times
However, the group would prevent any similar tragedies from happening as they continue fighting for their cause, he said.
Wearing a T-shirt with the message: "An injury to one is an injury to all," Chu said the words reflected the attitude of the protesters, adding that he wore the shirt to express his rage.
Tainan Anti-Curriculum Adjustments Front convener Chao Chen-chen (趙振辰) said he could hardly believe it when he heard the news of Lin's death, adding that the ministry's adjustments had forced students to give up their studies and even lose their lives.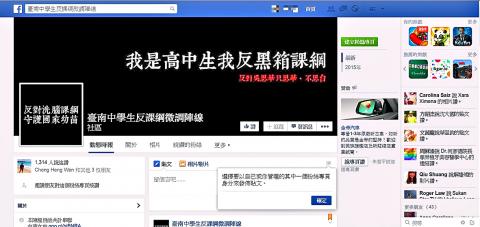 The Facebook page of a collective of Tainan students protesting proposed curriculum adjustments shows a black banner reading: "I am a high school student, I oppose the adjustments," to express solidarity with Northern Taiwan Anti-Curriculum Changes Alliance spokesperson Dai Lin.
Photo: Screen grab from Facebook
Taichung First Senior High School student Liao Chung-lun (廖崇倫), a former spokesperson of student club Apple Tree Commune, which fired the first shot over the ministry's controversial curriculum guideline adjustments, blamed himself for Lin's death.
"It seems that I am the one responsible for [Lin's] death," Liao said on Facebook. "Sorry. I should have not fired the first shot. I am sorry."
Liao uploaded a black image as his Facebook profile picture to mourn Lin's demise.
Messages of support flooded in, telling him not to blame himself for the death.
"It is not you who should be sorry," one message said.
"It is those who do not believe they are wrong who are in the wrong," another said.
There were also comments encouraging him to carry on.
"Only by living on can we defeat the government," one said.
"Those who stay should continue fighting," another said.
As of press time, at least 13 schools' had changed the cover image on their Facebook page to a black image to commemorate Lin's passing.
Documentary maker Kevin Lee (李惠仁), who last year won first prize at the Taipei Film Festival with his documentary A Secret That Can't be Exposed 2: The State Apparatus (不能戳的秘密2:國家機器) and wore a T-shirt with an anti-curriculum-changes slogan on it to this year's event, said he could not stop crying after hearing about Lin's death and castigated those who attributed Lin's apparent suicide to his medical history.
Lee said he was infuriated by remarks made by Lin Shu-kuei (林淑貴), principal of the school that Dai Lin attended, who reportedly said during a visit to the Lin family that Dai Lin had "long-term emotional problems."
Lin Shu-kuei should be "ashamed for shirking her responsibility so conveniently," Lee said.
Dai Lin was among protesters arrested on Thursday night last week after entering the ministry building to protest the controversial adjustments to high-school curriculum guidelines.
Lee said the students who were briefly arrested and face legal action are too young to feel any trauma from the events, adding that he and Academia Sinica assistant researcher Peng Jen-yu (彭仁郁) had plans to assist the students over such matters.
"I am terribly sad that we were not fast enough [to help]," Lee said.
TV show host Cheng Hung-yi (鄭弘儀), whose program Lin appeared on to explain the alliance and its ideals, praised Dai Lin's eloquence, courage, and clear and logical mind.
Cheng said he broke down upon learning the news of Dai Lin's death.
"It might have been controversial and mistaken for the students to storm the ministry building, but is arresting, taking legal action and handcuffing them what you call education? Why is the ministry insisting on suing them and at the same time asking schools not to take disciplinary actions against them?" Cheng asked on Facebook.
Cheng said the public must remember the values embodied by Dai Lin.
Filmmaker Yang Ya-che wrote on Facebook: "In 2010 a [73-year-old woman] in Dapu [Borough, 大埔, Miaoli] took her own life [during controversy over land expropriations]; in 2013 another Dapu resident, Chang Sen-wen (張森文), committed suicide; in 2015, anti-curriculum-changes advocate [Dai] Lin killed himself. They all had to do, directly or indirectly, with repression by the government or society. Those who are in power can destroy people's homes with official might, while officials who violate the law can thoughtlessly take legal action against journalists and students. This is what Taiwan has become in recent years."
Additional reporting by Wang Chieh and Ting Wei-chieh
Comments will be moderated. Keep comments relevant to the article. Remarks containing abusive and obscene language, personal attacks of any kind or promotion will be removed and the user banned. Final decision will be at the discretion of the Taipei Times.