Family of Formosa Fun Coast fatality donates organs
The family of a 23-year-old medical student fatally injured in the Formosa Fun Coast (八仙海岸) inferno last month has decided to donate his organs after he was declared brain dead earlier yesterday, making the young man the fourth fatality in the disaster.
Far Eastern Memorial Hospital determined the man, named Su Chia-sheng (蘇家陞), to be brain dead at about 11am yesterday, after his condition took a sudden turn for the worse on Thursday.
Su, a junior-year dental student at Taipei Medical University (TMU), sustained second and third-degree burns to 73 percent of his body in the blast and ensuing fire on June 27, which injured 491 people and has killed four so far.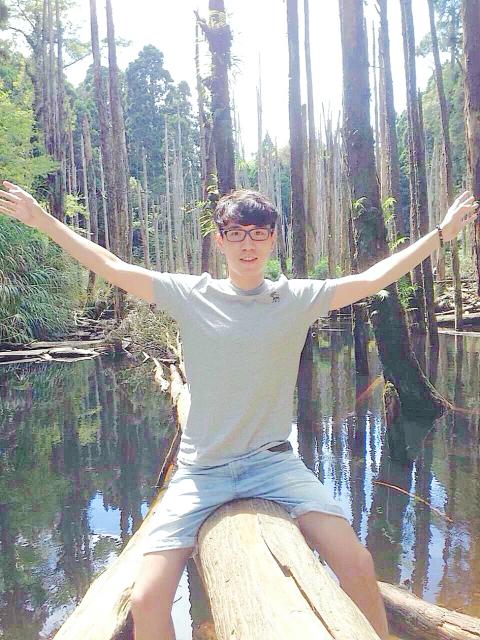 Su Chia-sheng, the fourth victim to die after the dust explosion disaster at Formosa Fun Coast, sits on a log in an undated photograph.
Photo provided by Su Chia-sheng's family
The 23-year-old student was intubated and attached to a life-
sustaining extracorporeal membrane oxygenation (ECMO) machine on the day of the accident, after his heart stopped beating for 11 minutes while being rushed to Far Eastern hospital for emergency treatment.
He was removed from the ECMO equipment on July 1 after his conditions stabilized, only to lapse into unconsciousness the next day due to brain edema.
According to TMU, Su was to donate his heart, liver, pancreas, two kidneys, two corneas and a section of small intestines, which were expected to benefit eight critically ill patients.
"The reason my son chose medicine was because he wanted to dedicate himself to society. While he can no longer complete his education, he was still able to fulfill a doctor's mission to save lives through another manner — by giving his organs to those in need," Su's father said.
Su's mother said her son once told her after an anatomy lesson that he deeply revered his "cadaver teachers" and that he was willing to donate his body in support of medical education should he ever have the chance.
"Doctors considered my son's body to be unfit for preservation due to the massive amount of burns he sustained. That was why we decided to donate his organs instead," she said.
As of 12pm yesterday, a total of 415 victims of the blast remained hospitalized at 47 medical institutions nationwide, including 281 in intensive care units and 221 in critical condition, according to the Ministry of Health and Welfare's latest victim monitoring data.
In related news, Taiwan Organ Registry and Sharing Center chairman Lee Po-chang (李伯璋) yesterday said that the center has seen 13 organ donors in the past two weeks, nearly 1.5 times the number normally recorded, including four who donated their skin.
"Catastrophic events always bring out the best and kindness in people, which is why we often see an increase in the number of organ donors following a tragic accident," Lee said.
Lee said organ donations not only afford critically ill patients a second chance at life, but also allow the spouses or relatives within three degrees of kinship to be given priority on the nation's transplant waiting list should they ever need one.
Comments will be moderated. Keep comments relevant to the article. Remarks containing abusive and obscene language, personal attacks of any kind or promotion will be removed and the user banned. Final decision will be at the discretion of the Taipei Times.