Number of burns victims in critical condition climbs
'MIRACULOUS': One patient, who suffered burns to more than 90 percent of his body, began to breathe on his own on Tuesday after having been on a ventilator for three days
Two hundred-and-eleven of the nearly 500 people injured in the dust explosion and ensuing fire at New Taipei City's Formosa Fun Coast (八仙海岸) water park on Saturday night last week were in critical condition as of yesterday, 27 more than the day before, according to figures released by the Ministry of Health and Welfare.
Out of a total of 495 people sent to hospitals after the incident, 449 remain hospitalized, official statistics showed. Two of the injured people died earlier this week.
Among the survivors, many of whom sustained burns to more than 50 percent of their bodies, staying alive and recovering will be a long and arduous process, doctors have said.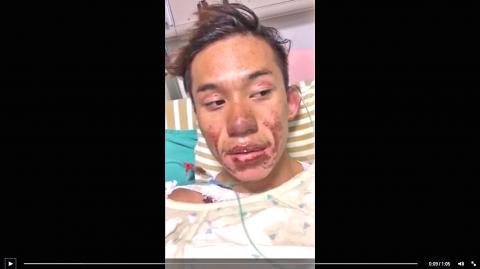 Burn victim Harry Chen, now on his fifth day in an intensive care unit, tells his loved ones that he will be brave in a video posted on Facebook on Thursday.
Screen grab from Chen's Facebook
Lu Yi-ming (呂意銘), a sophomore at Vanung University in Taoyuan who suffered burns to more than 90 percent of his body, began to breathe on his own late on Tuesday after having been on a ventilator for three days.
The news of Lu making a recovery, described by his doctors as "miraculous," and a newly recorded message of hope by a 20-year-old college student who suffered burns to 55 percent of his body have brought some encouragement to those suffering the harrowing ordeal.
In the message recorded with the help of his girlfriend, Harry Chen (陳勁綸) told his friends and family "not to worry."
Chen, who is now in his fifth day recovering in an intensive care unit (ICU) at Chang Gung Memorial Hospital, said that cleaning his wounds and putting on new dressings "is very painful," but realized he had little choice.
In a video uploaded to Facebook, the National Taiwan Sport University sophomore said he has made it his goal to recover quickly so he can be the second of the fiery explosions' victims being treated at the hospital in New Taipei City to get back on his feet.
Meanwhile, hospitals treating burn patients said they are challenged by staffing shortages, despite mobilizing all related departments since patients were rushed to emergency rooms.
Talking to the press about the situation over the past few days, a spokesman for Taipei Veterans General Hospital said that all 456 nurses at the hospital's 14 intensive care units have been working in shifts around the clock, because tending to the burns patients has demanded more than double the ward's usual staff.
Dressing the wounds of a severe burn patient requires from eight to 10 medical personnel to work for an average 1.5 hours, he said.
In addition to the staff of the plastic and reconstructive surgery department, doctors and nurses of the surgical department and otolaryngology and oral surgery have joined forces to treat burns patients.
The Ministry of Health and Welfare said that after the incident, a total of 18 doctors and 165 nurses in private practice have contacted the ministry to volunteer their help.
The ministry has asked all public and private hospitals to request those who have retired or left the profession to return to their old posts to alleviate the personnel shortage.
Comments will be moderated. Keep comments relevant to the article. Remarks containing abusive and obscene language, personal attacks of any kind or promotion will be removed and the user banned. Final decision will be at the discretion of the Taipei Times.