KMT's Hung criticizes DPP over independence
Chinese Nationalist Party (KMT) presidential hopeful Hung Hsiu-chu (洪秀柱) yesterday accused the Democratic Progressive Party (DPP) of pushing for Taiwanese independence "in the name of democracy" as she proposed signing a peace accord with China should she win the election in January next year.
Democracy, which the KMT has embraced, is being used by the DPP as a "tool of populist struggle" to confront the 1.3 billion people in China, rather than being embodied as a value through which Taiwan can win the hearts of the 1.3 billion Chinese, Hung said.
"When democracy has become a tool of populist struggle and the democratic process has been paralyzed, has the KMT ever fought to end it?" Hung asked.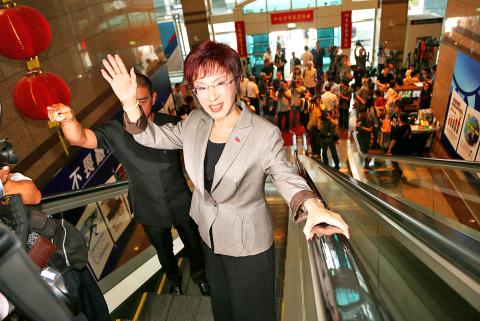 Deputy Legislative Speaker and Chinese Nationalist Party (KMT) presidential hopeful Hung Hsiu-chu waves as she visits KMT headquarters in Taipei yesterday to give a speech at a meeting of the party's Central Standing Committee.
Photo: CNA
Hung said that the way the KMT responded to increasing calls for Taiwanese independence has been "feeble."
The only contender for the KMT's primary, Hung delivered her campaign planks at a meeting of the party's Central Standing Committee yesterday, two days before public polls tomorrow and on Saturday to determine her nomination.
Hung is to be nominated if she has 30 percent support in the polls, otherwise the party will draft another candidate, presumably Legislative Speaker Wang Jin-pyng (王金平), who said he felt it incumbent upon him to run if the KMT nominates him.
In her speech, Hung said the KMT is more capable than its rivals of leading the nation, because the party has been unambiguous in its blueprint for Taiwan and adaptable to changing external conditions.
"The problem is that we scare easily, partly because we are worried about being labeled and partly because we are rather unsure of ourselves," Hung said.
"We are not brave enough to speak up for our ideas," she said. "We keep falling back to the extent that people begin to question whether we have the ability and will to lead the nation, and doubt our resolve in carrying out our ideas."
Hung said the two issues that set the KMT and the DPP apart in the way they lead the nation are the so-called "spirit tablets" of the DPP's party chapter — the pursuit of Taiwanese independence and opposition to nuclear energy.
Over the years and in an underhanded manner, the direction the DPP has been moving toward is in line with "separatism," which would bring threats to national security, make Taiwan even more isolated, cause economic stagnation and fuel hatred in society, Hung said.
"The DPP conceals its intent to push for independence, calling it maintenance of cross-strait ties," she said. "However, we need to sign a peace accord [with China] to ensure cross-strait peace and national security and to expand [Taiwan's] international space."
With regard to whether Taiwan should become nuclear-free as the DPP suggests, Hung said the threats nuclear power plants pose are well-understood, but the use of nuclear energy is a question that does not allow a simple yes or no answer.
"Nuclear energy is dangerous, but can we say that emissions of carbon dioxide pose no danger at all?" Hung asked, adding that reducing the country's reliance on nuclear power would only be possible on condition that it has a sufficient supply of energy.
Separately yesterday, Hung unveiled her team of "national security advisers," who consists of nine former foreign affairs or cross-strait relations ministers, officials and academics.
The list of advisers was said to be the "first batch" of those to play a part in cross-strait relations and diplomacy.
Former ministers of foreign affairs Chen Chien-jen (程建人) and Francisco Ou (歐鴻鍊), former Mainland Affairs Council minister Chang King-yuh (張京育) and former Straits Exchange Foundation secretary-general Chiu Chin-yi (邱進益) are among seven former foreign affairs officials on the team.
Two advisers who have relatively different backgrounds are former Taiwan Solidarity Union chairman Su Chin-chiang (蘇進強) — who was expelled from the KMT and had his party membership revoked for accompanying former KMT chairman Lien Chan (連戰) on a visit to China last year — and National Taiwan University political science professor Chang Ya-chung (張亞中), who is also the chairman of the pro-unification Chinese Integration Association and a member of the high-school curriculum review committee that has sparked controversy with planned changes to curricula.
The advisers praised Hung's courage and the clarity of her stance on the cross-strait relationship, which Chiu described as an issue that is "the most crucial among the crucial," adding that it is stable and possible only on the basis of the so-called "1992 consensus."
Hung said the team is to help Taiwan find "a way to survive."
Comments will be moderated. Keep comments relevant to the article. Remarks containing abusive and obscene language, personal attacks of any kind or promotion will be removed and the user banned. Final decision will be at the discretion of the Taipei Times.