S Korea vows 'all-out effort' to curb MERS outbreak
South Korea reported its fifth death from Middle East respiratory syndrome (MERS) as the government yesterday vowed "all-out" measures to curb the outbreak that is threatening to spread nationwide, including tracking the mobile phones of those in quarantine.
The number of infections rose to 64 after 14 new cases of the disease, including one death, were confirmed late on Saturday night, the South Korean Ministry of Health said.
It is the largest outbreak outside Saudi Arabia where it has infected more than 950 since 2012.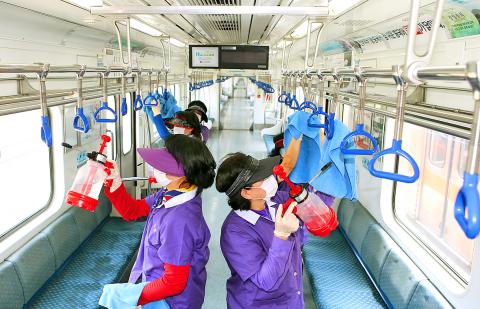 Workers wearing masks clean up public facilities as a precaution against MERS on a subway train in Busan, South Korea, yesterday.
Photo: AP
As of yesterday, more than 2,300 people had been placed under quarantine of varying degrees. About 2,100 were told to stay home and strictly limit their interactions with others, while about 200 were isolated in state hospitals.
All the 14 new infections were among people already in quarantine after being exposed to those diagnosed earlier, the ministry said.
However, Busan City authorities reported an additional case in the country's southern port and second-largest city, sparking alarm that the outbreak might spread nationwide.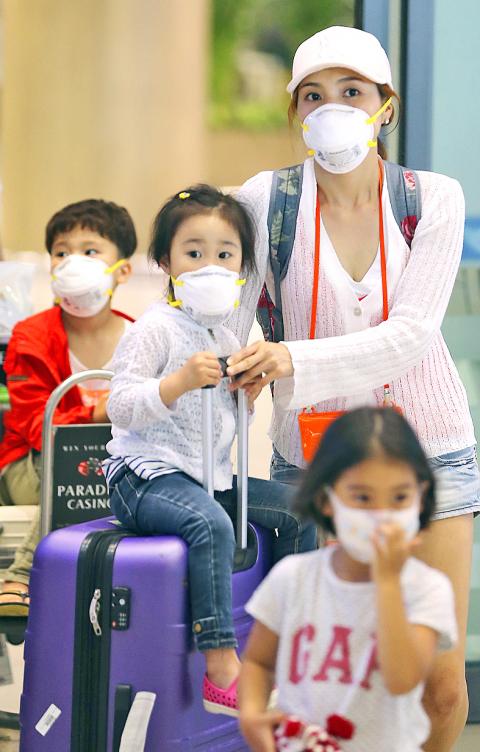 Passengers wear masks at Incheon International Airporl, South Korea, yesterday.
Photo: AP
The case was not included among the 14 new infections confirmed by the health ministry.
Acting South Korean Prime Minister Choi Kyung-hwan vowed yesterday that "all-out efforts" would be made to curb the spread of the disease in Asia's fourth-largest economy.
He urged the public not to panic, saying all 64 patients had already been in hospital quarantine.
"We can keep the situation under control because... the outbreak is not spreading to the outside community," Choi said at a press conference "People should not overreact and should cooperate closely [with the government] to minimise negative impact on the economy."
South Korean President Park Geun-hye's administration and health officials have come under a storm of criticism over a perceived slow and insufficient response to the outbreak.
A policy not to name the hospitals where patients were diagnosed or treated was a major focus of public criticism.
Choi on Sunday disclosed the list of 24 such hospitals — mostly in Seoul or Gyeongi Province surrounding the capital — saying it was aimed at "easing public anxiety."
Authorities had earlier confirmed one case in Sunchang, about 240km south of Seoul, with the entire village of about 100 people having been sealed since Saturday.
Bigger budget support was also promised for those placed under quarantine and for local governments and school authorities struggling to contain the outbreak.
Samsung Medical Center in Seoul — where 17 cases were confirmed — yesterday said that more than 890 patients and medical staff had been exposed to those infected.
"We notified the 893 people immediately and carried out necessary quarantine measures," hospital president Song Jae-hoon told reporters.
However, Seoul Mayor Park Won-soon warned of potential danger of the outbreak at the hospital — one of the country's largest, visited by more than 8,000 patients a day.
"We are afraid that there is a significant possibility that the outbreak at the Samsung hospital could spread to the local community," Park said.
Park last week declared "war" on the outbreak and called for more transparency from the central government to curb the spread of the disease in the capital — home to 10 million people.
The Seoul education council yesterday ordered the closure of all 126 kindergartens and primary schools in Gangnam and Seocho districts in southern Seoul, where the Samsung hospital is located.
Health authorities warned that they were expecting more new cases of those who had been infected at the hospital in recent weeks.
More than 1,300 schools have been closed temporarily. Public events and sports games were cancelled across the country.
Comments will be moderated. Keep comments relevant to the article. Remarks containing abusive and obscene language, personal attacks of any kind or promotion will be removed and the user banned. Final decision will be at the discretion of the Taipei Times.