Tsai completes DC visit, US says policy still same
UNPRECEDENTED? The DPP chairperson's words were said to have reassured US Senator John McCain, while an unnamed official said others were 'impressed'
While some political observers have considered it particularly significant that the US Department of State fielded a top team headed by US Deputy Secretary of State Antony Blinken to meet with Democratic Progressive Party (DPP) Chairperson Tsai Ing-wen (蔡英文) inside the department's headquarters, US officials reiterated that there have been no changes to US policies.
Tsai met Blinken on Thursday, making her the first Taiwanese presidential candidate to have entered the department's headquarters.
In the past, all meetings with Taiwanese officials are thought to have been held in unofficial offices to avoid upsetting Beijing.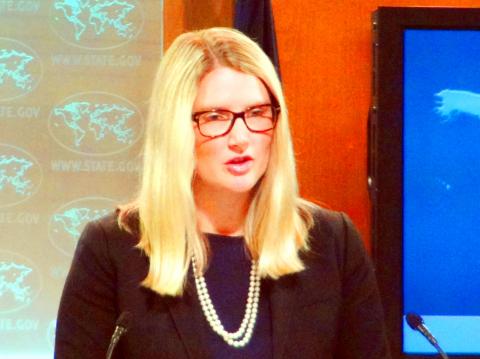 US Department of State Senior Advisor for Strategic Communications Marie Harf speaks at a news briefing at the department's headquarters on Friday.
Photo: CNA
When pressed on the matter on Friday, the department struggled to find wriggle room.
"We had a constructive exchange on a wide range of issues," department spokeswoman Marie Harf said.
"Our position in no way has changed. We have developed a strong, unofficial relationship with Taiwan. This is based on the one China policy, the three joint communiques and the Taiwan Relations Act — things we have talked about for years and years and years," Harf said.
Pressed to comment on Tsai's meeting inside department headquarters, Harf said that she was "not sure I have much more to say on this. This is just part of that unofficial relationship."
"I am not sure that we see this as different from other meetings we have had with Taiwanese officials," she added.
Harf said there were no policies that prevented the US from conducting meetings in the department's building with Taiwanese officials.
She promised to check whether any previous meetings with Taiwanese officials had been held in the department's building.
Tsai left Washington by train for New York and was set to visit Houston and San Francisco before returning home.
"I was reassured by her support for a responsible foreign policy for Taiwan, her commitment to the status quo in cross-strait relations and her desire to strengthen relations with the US," US Senate Armed Services Committee Chairman John McCain said.
Tsai left Washington on Friday buoyed by what is being generally regarded as a highly successful visit.
Most US government officials, politicians and think tank experts agreed that she made a series of convincing, competent and confident presentations.
Tsai appeared delighted with the visit, but maintained her careful, low-key style when answering questions from reporters as she took a final sightseeing cruise on the Potomac River.
She spoke of "deepening cooperation and communications" with Washington and said that she had engaged in "many rich and meaningful discussions."
The exchange of opinions was a very valuable process, Tsai said.
Asked about reports from China that — without supporting Beijing's "one China" principle — her talk of peace and stability across the Taiwan Strait could not be sincere, Tsai reiterated that the DPP had said all that it had to say on the subject.
"I believe my previous statements have already addressed the issues of interest to all parties, including the common desire on all sides to maintain cross-strait peace and stability," she said.
Speaking on the condition of anonymity, a US government source told the Taipei Times that Tsai had left a positive impression and that she had been considerably more candid in private than in her public remarks.
"People were impressed," the source said.
There were some suggestions that Tsai avoided questions about the so-called "1992 consensus," but Heritage Foundation Asian Studies Center Director Walter Lohman said she was "wise" to carefully construct her words on that subject.
"Saying that she wants to maintain the 'status quo' across the Taiwan Strait says everything," he said.
"Everyone understands what 'status quo' means and that means more than if she uses the words '[19]92 consensus,'" Lohman added.
The "1992 consensus" refers to a supposed understanding between the Chinese Nationalist Party (KMT) and the Chinese Communist Party that Taiwan and China acknowledge "one China," with each side having its own interpretation of what "one China" means.
Lohman said that the US is most interested in how Tsai would deal with cross-strait relations, and "she delivered well on that" and left the US with confidence that she could "handle" the situation.
"I was very much reassured," he said. "She is not going to change Taiwan's current status as recognized in the world, she is not going to push for some kind of de jure recognition of Taiwan's independence."
Senior political adviser to the Formosan Association for Public Affairs Gerrit van der Wees said the warm reception Tsai received in Washington was evidence of a "sea change in the attitudes" toward Taiwan of the administration of US President Barack Obama.
"There was a much more positive and inclusive stance toward her and the DPP than ever before," he said.
"There was a much greater willingness to listen to her views and vision and less of a tendency to cling to preconceived notions," Van der Wees added.
He said the change was partly due to a major change in the political landscape in Taiwan, but also partly due to developments in the South China Sea, where Beijing has been asserting disputed claims.
Comments will be moderated. Keep comments relevant to the article. Remarks containing abusive and obscene language, personal attacks of any kind or promotion will be removed and the user banned. Final decision will be at the discretion of the Taipei Times.