Nation executes six death row inmates
ANESTHETIZED: The deputy minister of justice said the executions were humane, as the prisoners had lost consciousness before the fatal pistol shots were administered
Six death row criminals were executed last night, with senior Ministry of Justice officials saying that full judicial reviews of the trial proceedings and court judgements had been carried out to ensure proper procedures and the rights of the prisoners to appeal had been met.
Minister of Justice Luo Ying-shay (羅瑩雪) signed the execution orders earlier in the day, with the sentences — by a pistol shot to the heart — carried out between 5pm and 6pm yesterday.
It had been more than a year since Luo previously approved using the death penalty when five convicted criminals were executed on April 29 last year.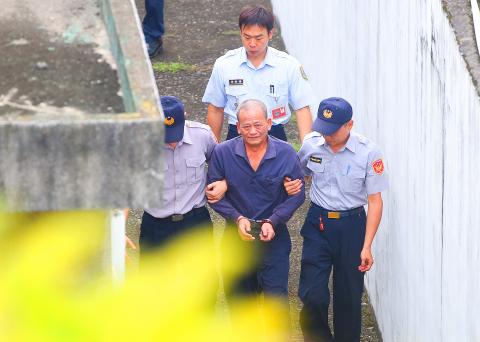 Police escort Tsao Tien-shou, center, ahead of his execution in Taipei yesterday.
Photo: Liao Chen-huei, Taipei Times
Deputy Minister of Justice Chen Ming-tang (陳明堂) confirmed that the sentences had been carried out on three inmates on death row at Taipei Prison — Cheng Chin-wen (鄭金文), Wang Hsiu-fang (王秀昉) and Tsao Tien-shou (曹添壽).
The other three executions were of Wang Chun-chin (王俊欽) at Tainan Prison, Huang Chu-wang (黃主旺) at Taichung Prison and Wang Wu-lung (王裕隆) at Kaohsiung Prison, Chen told a press briefing last night.
He said the executions were carried out in a humane manner, with the prisoners having beem anesthetized and unconscious before the fatal pistol shots were administered.
Chen also listed the trial verdicts of the six, saying that full appeal processes on their cases had been completed, upholding guilty verdicts for murder, homicide associated with robbery, rape and other violent offenses, with nine victims killed.
"These six men acted with violence and cruelty, and some of them showed no remorse for their actions. Their crimes severely impacted public security, resulting in society as a whole feeling anxiety and distress," Chen said. "Since the death sentences had been upheld throughout the judicial and appeal processes, the ministry had a responsibility to carry out the executions in order to implement justice for society."
He said yesterday's executions were not in response to public pressure or due to a recent spate of violent crimes.
"The judicial procedures for the death sentences were initiated last month. It had nothing to do with any crimes or events of recent days," he said.
Chen said the government's position is "to maintain capital punishment, but reduce the number of times it is used."
"It is not yet the right time to abolish capital punishment," Chen said. "The government conducts thorough reviews of death sentence cases, of the prosecutorial and investigative processes, and the court judgements. We ensure that the appeals process for prisoners has been exhausted," Chen said. "The death sentence is carried out in a prudent manner, so that we can guarantee justice for society and that human rights have been protected."
Comments will be moderated. Keep comments relevant to the article. Remarks containing abusive and obscene language, personal attacks of any kind or promotion will be removed and the user banned. Final decision will be at the discretion of the Taipei Times.