No hit-and-run, Honduran ambassador says
'GOOD FAITH': An initial investigation by police found that the teen driver involved in the collision did not have a driver's license and failed to follow traffic regulations
Honduran Ambassador Rafael Fernando Sierra Quesada yesterday rejected claims that he was involved in a hit-and-run collision with a teenager riding a scooter early on Sunday morning, saying that he did not call the police "in good faith."
Sierra told a news conference at the embassy yesterday that at that time he wanted to help the teen, who seemed afraid and nervous.
"In my mind, I thought he already knew that it was his fault," Sierra said. "I should have called the police. I recognize that it was a mistake [that I did not]."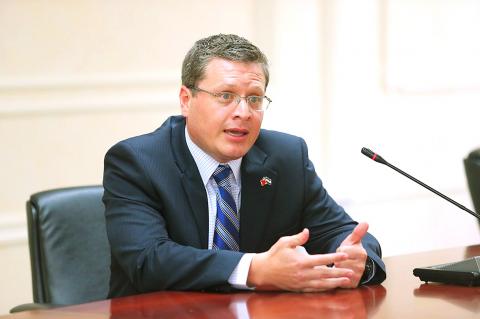 Honduran Ambassador Rafael Fernando Sierra Quesada speaks at the Honduran embassy in Taipei yesterday, denying claims that he was involved in a hit-and-run collision with a scooter in Taipei on Sunday morning.
Photo: CNA
Sierra said he knew the driver was young, but did not know his age and "situation."
"I told him: 'Do not worry. I would not prosecute you. I would not sue you. We will figure out something,'" Sierra said.
Sierra was accused of committing a hit-and-run after the 15-year-old's mother, surnamed Kuo (郭), on Monday posted a photograph of Sierra's business card on Facebook, with messages saying that Sierra left his business card with her son and left the scene of the accident.
There is "a big, big difference" between what had happened and what the boy's mother described, Sierra said.
"I stayed with the boy until his father arrived. I did not 'throw' my card," Sierra said. "I gave them my card so they can feel secure because there is my name on it and where they can find me. I did not want them to feel that it was a runaway. That is why I gave them my card."
Sierra said he stayed at the scene of the accident for 40 minutes, until the boy's father came to make sure the teen was not seriously injured.
On Facebook, the teen's mother said: "[Do you think] we Taiwanese are easily bullied?"
"It is not important how much [we would be] compensated ... what we want is justice," she added.
The post was removed on Monday night.
The embassy said it reported the collision to the police at 5pm on Monday, after an insurance company said it needed the collision evaluation report from the police to address its payment claim.
The incident occurred at about 6am in New Taipei City's Tamsui District (淡水), when police said Sierra's vehicle — proceeding straight — and a scooter that was making a left turn collided.
After an initial investigation, the teen was issued two tickets on Monday, police said.
The teen lacks a motorcycle driver's license and he did not make a two-stage left turn at the intersection, as required by traffic rules, police said.
The boy received some bruises on his back and legs in the collision.
Kuo on Monday told reporters that the family would take responsibility for the traffic violations because the driver is her son, but she also wished that the embassy would not dodge responsibility for the accident.
She did not make further comments yesterday.
Sierra also made a statement to the police yesterday at the embassy.
Additional reporting by Huang Chieh
Comments will be moderated. Keep comments relevant to the article. Remarks containing abusive and obscene language, personal attacks of any kind or promotion will be removed and the user banned. Final decision will be at the discretion of the Taipei Times.