Journalists protest lack of access to legislature
The Legislative Yuan is absurdly the only public institution that restricts press freedom with arbitrary regulations that deny the entry of journalists that it deems unqualified, a group of independent journalists and reporters from non-profit organizations said yesterday.
Led by Citizen's Congress Watch (CCW), several groups and independent journalists held a press conference at the legislature in Taipei, calling on Legislative Speaker Wang Jin-pyng (王金平) to take on the transparency problem.
The "Legislative Yuan Directions on Issuing Press Passes," revised and announced on April 10 last year, states that only reporters from institutions registered as commercial companies and where national news constitutes at least 60 percent of their coverage are to be granted press passes.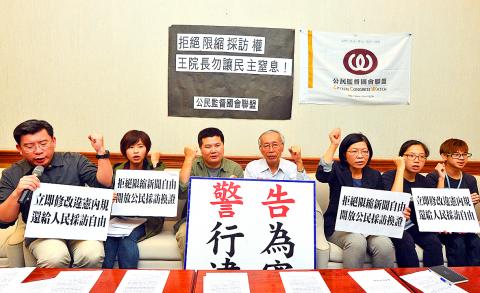 Civil groups and independent journalists, led by Citizen Congress Watch, yesterday hold a press conference at the Legislative Yuan calling on Legislative Speaker Wang Jin-pyng to remove restrictions on journalists reporting from the legislature.
Photo: Wang Yi-sung, Taipei Times
"Those reporting on local news and individuals issuing subjective news articles on the Internet are excluded from the issuance [of press passes]," it says.
"The Council of Grand Justices' Interpretation No. 689 states that newsgathering rights, which are protected by the freedom of the press, should be enjoyed by not only reporters belonging to certain news agencies, but also general individuals who gather news to provide newsworthy information to the public or to strengthen supervision of the government by way of promoting public debate," CCW chief executive Chang Hung-lin (張宏林) said.
The legislative directives on issuing press passes, "which are not even executive orders," are unconstitutional, he said.
Chu Shu-chuan (朱淑娟), a freelance journalist who used to work for the mainstream media, said she has visited many public offices for her work on environmental reporting, but the legislature is the only place that has restricted her rights of entry, "making it, ironically, the most undemocratic place" among all public institutions.
"What is ridiculous is that even publications such as CommonWealth Magazine and Next Magazine are not able to secure passes for their reporters, so they have to go to the front desk every time they need to get into the legislative building to secure temporary passes. Moreover, freelance journalists and those from non-commercial organizations are, according to the rules, denied even temporary passes," she said.
Journalists from online media outlets that focus on particular subjects, such as the environment, labor rights or social issues, complained about the arbitrary process of issuing passes.
They said that whether they receive a temporary pass is often dependent on the person they are dealing with that day.
Wang Hao-chung (王顥中), a reporter for Coolloud Collective (苦勞網), an online platform dedicated to social activism, said the process is very "subjective."
"You have a higher chance of getting a temporary pass if you carry a professional camera or wear formal attire," Wang said. "However, a temporary pass cannot get you into the main legislative chamber. While it is possible for those who do not have a regular press pass to get into the chamber using a general visitor's pass that is issued to members of the public to sit in on meetings, this type of pass allows the visitor to stay for only 30 minutes."
A journalist from an environmental organization said that she had been told that the more significant or controversial the bills on the agenda, the stricter the enforcement of rules on visitors.
The groups demanded the removal of the "unconstitutional" provisions in the legislative directives before the end of this plenary session and the immediate suspension of the practice which blocks independent journalists from entering the Legislative Yuan.
Comments will be moderated. Keep comments relevant to the article. Remarks containing abusive and obscene language, personal attacks of any kind or promotion will be removed and the user banned. Final decision will be at the discretion of the Taipei Times.