One week on, Nepal rules out finding more survivors
Nepal yesterday ruled out the possibility of finding more survivors buried in the rubble from a massive earthquake that killed more than 6,700 people and devastated vast swathes of one of Asia's poorest countries.
One week on from Nepal's deadliest quake in more than 80 years, hopes of detecting more signs of life among the ruins of the capital, Kathmandu, had all but disappeared and the focus was shifting to reaching survivors in far-flung areas who have yet to receive relief supplies.
The UN children's fund UNICEF warned of a race against time to avert an outbreak of disease among the 1.7 million youngsters estimated to be living in the worst-hit areas, with monsoons just weeks away.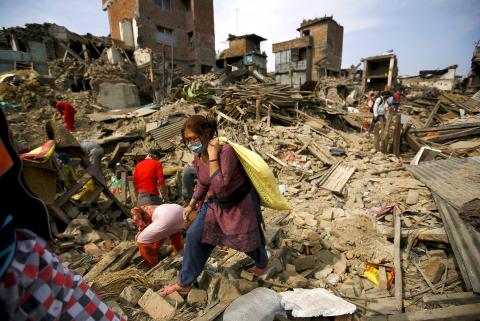 A woman carrying belongings recovered from her house walks upon the debis of collapsed houses following last week's earthquake in Bhaktapur, Nepal, yesterday.
Photo: Reuters
The magnitude 7.8 quake wreaked a trail of death and destruction when it erupted around midday on Saturday last week, reducing much of Kathmandu to rubble and even triggering a deadly avalanche on Mount Everest.
"It has already been one week since the disaster," Nepalese Ministry of Home Affairs spokesman Laxmi Prasad Dhakal said. "We are trying our best in rescue and relief work, but now I don't think that there is any possibility of survivors under the rubble."
As well as updating the death toll to 6,621, Dhakal put the number of injured at 14,023.
While teams of rescuers from more than 20 countries have been using sniffer dogs and heat-seeking equipment to find survivors in the rubble, no one has been pulled out alive since Thursday evening.
The scale of the disaster is still to emerge, with the mountainous terrain in the vast Himalayan nation complicating the relief effort.
The numbers of foreigners who have died was also unclear, with about 1,000 EU citizens still unaccounted for in Nepal, according to diplomats.
Comments will be moderated. Keep comments relevant to the article. Remarks containing abusive and obscene language, personal attacks of any kind or promotion will be removed and the user banned. Final decision will be at the discretion of the Taipei Times.