Young brothers help save parents from suicide bid
A couple were attended to this week after their three young children told police that their parents were trying to commit suicide, New Taipei City police said yesterday.
The boys were carrying luggage when they arrived at Shalun Police Station in Banciao District (板橋) late on Thursday.
Police said the children told officers that "father and mother told us to ask for help from the police to contact our grandfather."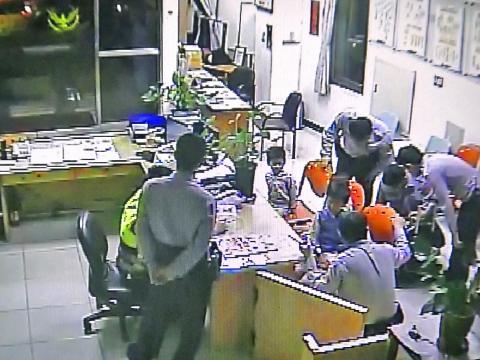 Staff at Shalun Police Station in New Taipei City's Banciao District on Thursday comfort the three children of a couple who were prevented from committing suicide after the three children walked into the station and told police about their parents' plan.
Photo provided by New Taipei City Police Precinct
Asked where their parents where, the children said: "Mom and Dad said they are going to commit suicide."
The oldest boy, nine, said he and his brothers were traveling with their parents, but were dropped off after being told about the suicide plan.
The police immediately began a search for the couple.
They were also contacted by an uncle of the boys, who said his sister-in-law had texted him for help.
She said in the text that her husband had passed out and that she had changed her mind about committing suicide, but was afraid that she was going to lose consciousness soon.
Using surveillance camera fottage and the information provided by the woman, the police located the couple's car in the Tatung Mountain (大同山) area of Shulin District (樹林), and pulled the pair out of their exhaust-filled vehicle.
The couple were hospitalized and are now in stable conditions, the police said.
The three children were taken home by their grandfather, police said, adding that the family is set to receive assistance from social welfare groups.
Comments will be moderated. Keep comments relevant to the article. Remarks containing abusive and obscene language, personal attacks of any kind or promotion will be removed and the user banned. Final decision will be at the discretion of the Taipei Times.