Tsai urges respect of free speech
Amid calls from politicians and the public for stricter regulations governing acceptable behavior on social media Web sites, Democratic Progressive Party Chairperson Tsai Ing-wen (蔡英文) yesterday expressed concern that such measures would harm Taiwan's hard-earned right to freedom of speech.
Following the suicide of entertainer Cindy Yang (楊又穎), which her family attributes to vituperative online criticism, a number of politicians, media outlets and academics have called for laws to be amended to allow for stricter penalties for "online bullying," — aimed at preventing a similar tragedy from occurring.
However, Tsai, the DPP's presidential candidate, said she was opposed to such moves.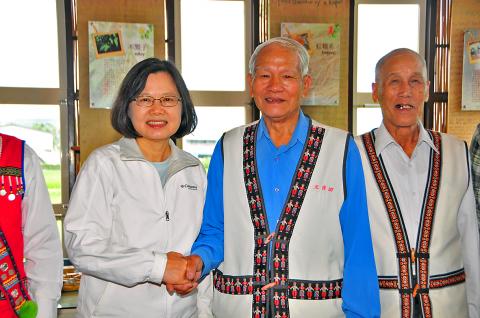 Democratic Progressive Party Chairperson Tsai Ing-wen, left, shakes hands with Towid Namoh, head of the Tafalong Community in Hualien County's Guangfu Township yesterday.
Photo: Hua Meng-ching, Taipei Times
"Malicious criticism, twisting facts and spreading rumors on the Internet are definitely very bad things, but if the problem was addressed by legislation, we worry what harm such legislation might do to freedom of speech," Tsai said in response to media queries while on a visit to Hualien County. "In a democracy, people cherish freedom of speech, especially for a society like Taiwan, which has been through the Martial Law era, and we expect to have freedom of speech."
She said that as well as encouraging self-restraint, Web site administers should take responsibility for preventing such language on the Internet.
"In a democracy, everyone is responsible for solving such issues, and it is not something that can be dealt with through legislation," she said.
There is existing legislation that can be applied to online bullying, and she would encourage all victims to take legal action against those who make malicious statements online, she said.
Tsai has been on a tour of Hualien since Friday, visiting opinion leaders, businesspeople and young people, aiming to listen to their views on Taiwan's future.
Tsai said she would assist local communities to develop their own specialty industries, so that young people from Hualien County and Taitung County could return home to work after gaining university degrees elsewhere.
Comments will be moderated. Keep comments relevant to the article. Remarks containing abusive and obscene language, personal attacks of any kind or promotion will be removed and the user banned. Final decision will be at the discretion of the Taipei Times.