Tsai invites 'talks' on cross-strait policy
INVITATION? Democratic Progressive Party Chairperson Tsai Ing-wen appeared to invite foreign input on her China policy by suggesting 'talks' for 'all concerned parties'
Democratic Progressive Party (DPP) Chairperson and presidential candidate Tsai Ing-wen (蔡英文) yesterday said that keeping cross-strait relations stable is a shared objective, adding that all concerned parties should sit and negotiate a solution acceptable to all involved.
"I can feel that everyone is concerned about how the DPP — and I — will handle China affairs. We are working hard to take care of the issue, hoping to maintain cross-strait stability and peace under very complicated circumstances, while defending Taiwan's interests at the same time, and allow Taiwanese to have more options," Tsai said. "We want to do it well, and it needs time, and we have been in good communication with different parties."
Tsai made the remarks in response to reporters' questions about comments made on Friday at a conference on cross-strait relations hosted by the Heritage Foundation in Washington by former American Institute in Taiwan (AIT) managing director Barbara Schrage.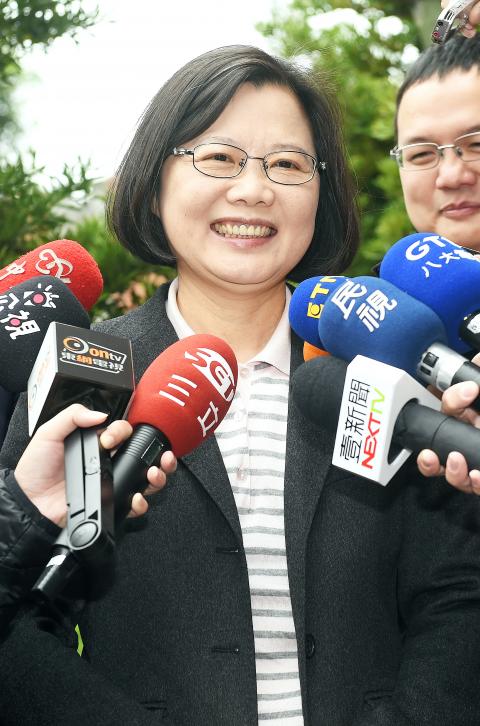 Democratic Progressive Party Chairperson Tsai Ing-wen speaks to reporters in Taipei yesterday before attending the International Diving Schools Association's annual instructors' conference.
Photo: Chien Jung-fong, Taipei Times
Schrage reportedly said that Tsai was unable to clarify Washington's doubts about her China policy when she visited the US in September 2011 as the DPP's candidate for the 2012 presidential election, and urged Tsai to present something new that would ease the concerns of China and the US.
Tsai — who is expected to be her party's candidate in next year's presidential election — is expected to have a chance to elucidate her stance in a visit to Washington set for later this year, Schrage said, adding that if Tsai cannot present something new, she would not be able to pass the test easily.
Schrage retired in January last year from the position she had held since 2006.
Asked if she considers Schrage's remarks as US interference with Taiwan's election, Tsai yesterday reaffirmed that she believes that the US will remain neutral, since it "has repeatedly stressed that it would not interfere in our election."
Tsai said that stability and peace in cross-strait relations is beneficial to all parties and thus everyone should work together to find a solution that is acceptable to all and beneficial to the people of Taiwan.
"Rather than saying it is intervention or influencing, I suggest that we all sit down and talk," Tsai said.
Comments will be moderated. Keep comments relevant to the article. Remarks containing abusive and obscene language, personal attacks of any kind or promotion will be removed and the user banned. Final decision will be at the discretion of the Taipei Times.