Regional powers eye summit plan
BACK TO BASICS: South Korea's foreign minister said Seoul was reviewing its options about China's new Asian Infrastructure Investment Bank project
The foreign ministers of South Korea, Japan and China yesterday agreed that a summit of their leaders on hold for nearly three years should be held soon to mend ties.
The ministers met in a bid to restore what had been a regular forum to discuss cooperation until it collapsed over what Seoul and Beijing saw as Tokyo's reluctance to own up to its wartime past.
"Based on the accomplishments achieved through this meeting, the three ministers decided to continue their efforts to hold the trilateral summit at the earliest convenient time for the three countries," a joint statement after the meeting said.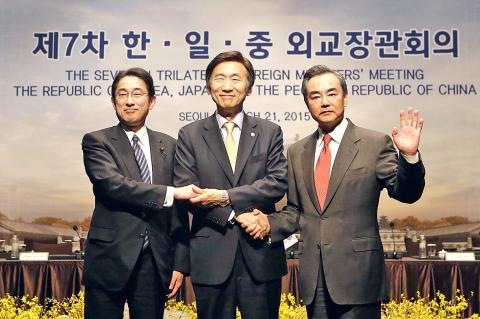 From right to left, Chinese Minister of Foreign Affairs Wang Yi, South Korean Minister of Foreign Affairs Yun Byung-se and Japanese Minister for Foreign Affairs Fumio Kishida pose during the seventh trilateral foreign ministers meeting in Seoul yesterday.
PHOTO: AFP
Chinese Minister of Foreign Affairs Wang Yi (王毅) said at a joint news conference that much depended on Japan proving that it is serious about recognizing its World War II actions in the region.
"The war has been over for 70 years, but the problem with history remains a present issue, not an issue of the past," he said referring to the end of WWII.
South Korea and China see Japanese Prime Minister Shinzo Abe's push to recast Japan's war record in a less apologetic tone as an attempt to whitewash history, and have urged him to uphold former leaders' statements of apology.
Abe has recently shown signs of softening his stance, helping to ease relations.
Meeting on the sidelines of the event earlier, Wang expressed hope that South Korea would join the China-led Asian Infrastructure Investment Bank, and South Korean Minister of Foreign Affairs Yun Byung-se said Seoul is reviewing its options, a South Korean official told reporters.
Japan-China ties remain frosty despite Abe having met Chinese President Xi Jinping (習近平) for the first time in November last year. South Korean President Park Geun-hye has yet to have a two-way summit with Abe.
Comments will be moderated. Keep comments relevant to the article. Remarks containing abusive and obscene language, personal attacks of any kind or promotion will be removed and the user banned. Final decision will be at the discretion of the Taipei Times.