DPP spokesperson resigns over Chen graft allegation
OFF-MESSAGE: Hsu Chia-ching alleged that the former president took billions of NT dollars from construction magnates and spoke against his son, Chen Chih-chung
The disclosure of former Democratic Progressive Party (DPP) spokesperson Hsu Chia-ching's (徐佳青) recent allegation that former president Chen Shui-bian (陳水扁) took several billion New Taiwan dollars from construction magnates during his presidency sent shock waves across the party yesterday, engulfing the party's chairperson and only presidential candidate, Tsai Ing-wen (蔡英文).
Hsu resigned as spokesperson yesterday morning after the Chinese-language Apple Daily revealed in yesterday's edition a speech she reportedly delivered to members of the Taiwan Benevolent Association of Dallas, Texas, on Feb. 15, and her resignation was soon approved.
According to an excerpt from her speech recorded on a video available on the Internet, Hsu said she was told by a tycoon that dozens of magnates from the construction sector each offered between NT$30 million and NT$70 million (US$947,000 and US$2.2 million), amounting to several billion NT dollars, to Chen at a gathering when he was in office.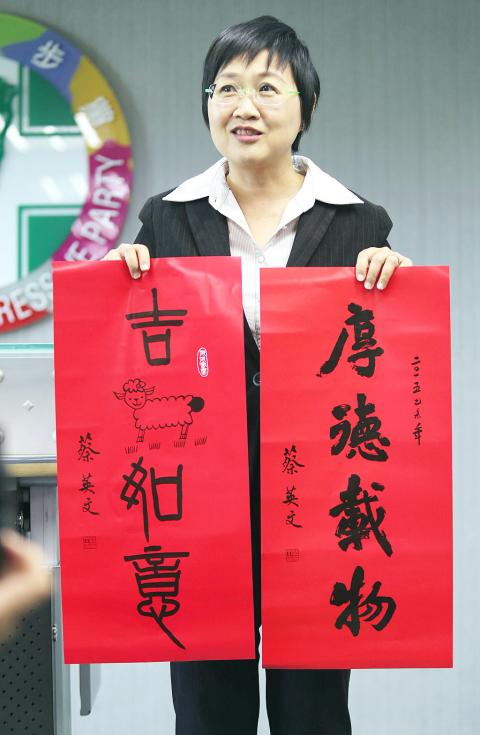 Then-Democratic Progressive Party spokeswoman Hsu Chia-ching holds up Lunar New Year couplets in an undated photograph.
Photo: CNA
"Just because the contributions [Chen] has made [to Taiwan] should be recognized doesn't mean that the mistakes [in connection with corruption] involving his family should be ignored," Hsu said.
Hsu then questioned the legitimacy of the former president's son, Chen Chih-chung (陳致中), seeking a seat in the legislature under the party's banner.
Chen Chih-chung had a role in the corruption charges against Chen Shui-bian, Hsu said, adding that the DPP lost the legislative seat to the Chinese Nationalist Party (KMT) in the Ninth District of Kaohsiung in the 2012 election because Chen Chih-chung quitting the party to run had split the DPP vote.
Chen Chih-chung asked for re-entry to the party, which was recently approved, and is seeking to represent the party in the election.
"Have you [Chen Chih-chung] ever contributed to Taiwan in any way? No one dared to speak ill of him just because he is Chen Shui-bian's son," she said.
Tsai said that Hsu's remarks about the former president were inappropriate.
"Hsu cited others without having verified if it's true, and we think it's not very appropriate," Tsai told the media when attending a screening of the video last night. "Although she was in the US on vacation, I still think what she said was beyond her role as a spokesperson for the party, and therefore I have approved her resignation."
Hsu's remarks sparked mixed reactions among DPP members and netizens, with some saying that facing up to corruption involving Chen Shui-bian would be advantageous to Tsai and the party's image, while others demanded that Hsu present evidence for her allegation and voiced concern over party strife.
DPP spokesperson Chen Yun-peng (鄭運鵬) told a press conference that party headquarters was not aware of Hsu's speech beforehand and that what she said reflected only her personal views.
Hsu offered no further comments on the allegation yesterday.
In a statement, Hsu said she did not deliver the speech in her capacity as party spokesperson, adding that she offered to resign to avoid diverting public attention from policy issues.
Chen Chih-chung dismissed what Hsu said as "groundless."
"I hope that whoever made slanderous allegations will provide evidence for public scrutiny, instead of making accusations based on hearsay," he said.
Radio host Clara Chou (周玉蔻) said on Facebook that she learned from sources that Chen Shui-bian was so outraged at the allegations that he said he would ensure Tsai has a hard road to the presidential election if she does not apologize for Hsu's remarks.
The ailing Chen Shui-bian was granted temporary medical parole in early January after serving six years of a 20-year sentence for corruption, during which he developed multiple complications, including severe depression, sleep apnea, non-typical Parkinson's disease and mild cerebral atrophy.
In a Facebook post late yesterday, psychiatrist Chen Chiao-chicy (陳喬琪) was quoted by Janice Chen (陳昭姿), the head of the former president's civilian medical team, as saying that Hsu's allegation has driven Chen Shui-bian and his wife, Wu Shu-jen (吳淑珍), to the brink of collapse.
The Taipei District Prosecutors' Office said the office would investigate the allegation if there was any evidence of irregularities.
Comments will be moderated. Keep comments relevant to the article. Remarks containing abusive and obscene language, personal attacks of any kind or promotion will be removed and the user banned. Final decision will be at the discretion of the Taipei Times.