Politicians, others pack into temples
Politicians around the nation fanned out to temples yesterday on the first day of the Lunar New Year to take part in religious rituals and pray for national prosperity in the new year.
After spending the last hour of the Year of the Horse on Wednesday night ringing the Lotus Bell at the Dharma Drum Mountain Buddhist temple in New Taipei City's Jinshan District (金山), President Ma Ying-jeou (馬英九) yesterday visited the Cixou Temple (慈祐宮) and Guandu Temple (關渡宮) in Taipei and Kaohsiung's Guanti Temple (關帝廟), where he distributed "lucky envelopes" to people.
At Cixou Temple, Ma wished the public a happy Lunar New Year.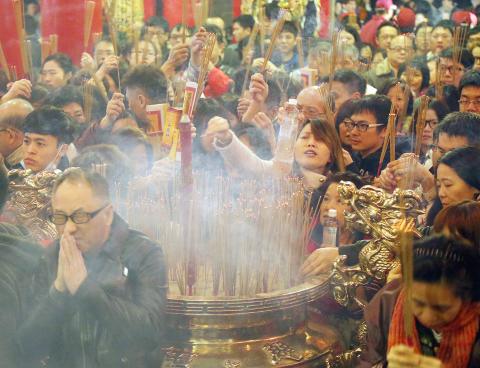 Devotees crowd Cixou Temple in Taipei's Songshan District yesterday to pray for prosperity and well-being on the first day of the Year of the Sheep.
Photo: CNA
"We have strong confidence that Taiwan's economy will get better this year," he said.
The president also paid visits to former vice president Lien Chan (連戰) and Wu Poh-hsiung (吳伯雄), both former Chinese Nationalist Party (KMT) chairmen.
Ma and Lien emerged after a one-hour meeting to make a show of solidarity in front of waiting reporters and photographers.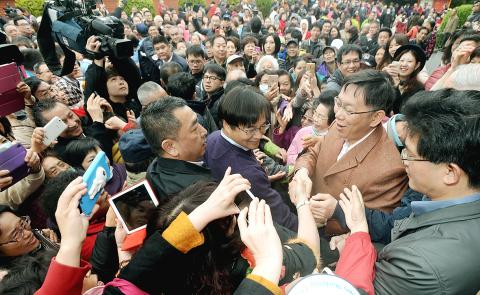 Taipei Mayor Ko Wen-je, in brown suit, is mobbed by people wanting to shake his hand or take photographs during a visit to Xingtian Temple yesterday.
Photo: Lin Cheng-kun, Taipei Times
"Lien has always supported what I have said recently, that we are not a 'caretaker' or 'lame duck' administration," said Ma, adding that the government would continue to take whatever actions it viewed as necessary.
Lien said the new year was full of opportunity, expressing hope that everyone would work together for the good of the nation.
Meanwhile, Taipei Mayor Ko Wen-je (柯文哲) was mobbed during his visits to nine temples in the city, as people swarmed to touch him, shake his hand or take photographs.
Worshipers also crowded to catch a glimpse of Democratic Progressive Party (DPP) Chairperson Tsai Ing-wen (蔡英文) when she visited Jhulinshan Guanyin Temple (竹林山觀音寺) in New Taipei City, with a long line forming to receive the paper spring couplets and red envelopes she distributed after she offered prayers at the temple.
She also visited temples in Taipei and Keelung.
After emerging from the Jhulinshan Guanyin Temple sanctuary, Tsai said that she had prayed for prosperity and peace for the nation and people.
However, she refused to comment on her planned presidential bid, citing the New Year holiday.
In response to Ma's call on Wednesday night for cross-party talks, Tsai said the DPP hopes that consensus can be arrived on the many important challenges and issues facing the nation.
"Taiwan faces many challenges," she said. "We hope that society can harmoniously come to a consensus and rally the largest force possible for reform."
She confirmed she visited People First Party Chairman James Soong (宋楚瑜) to discuss constitutional reform efforts.
"It was good for parties who feel a sense of responsibility to society to sit down together and hold talks," she said.
Meanwhile, a divination slip drawn yesterday at the Nankushen Daitian Temple (南鯤鯓代天府) in Tainan to foretell the luck of the nation in the new year ended up triggering heated discussions about its meaning.
The title of the slip, Wu Zetian Ascending the Throne (武則天坐天), led to speculation that the nation is to have its first female president, since Tsai has signed up for her party's primary for next year's presidential election.
Wu was China's first and only female emperor.
However, Nankushen Daitian Temple executive secretary Hou Hsien-hsun (侯賢遜) said the content of the slip means that "our unsettled society is to stabilize" and that "the bad will pass and the good will come."
Additional reporting by Steve Tsao
Comments will be moderated. Keep comments relevant to the article. Remarks containing abusive and obscene language, personal attacks of any kind or promotion will be removed and the user banned. Final decision will be at the discretion of the Taipei Times.