Hsia facing challenges as newest MAC minister
Deputy Minister of National Defense Andrew Hsia (夏立言) yesterday said that taking over as head of the Mainland Affairs Council (MAC) would be a great challenge, and he anticipated calling on his predecessors to familiarize him with his new job.
Hsia was named to the post after the Executive Yuan announced earlier yesterday that it had approved the resignation of MAC Minister Wang Yu-chi (王郁琦).
The 64-year-old Hsia is entering a new realm, having spent many years as a diplomat before he was appointed deputy minister of defense in 2013.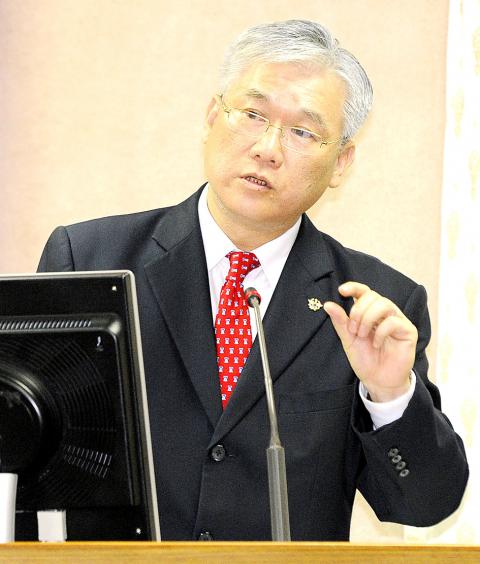 Deputy Minister of National Defense Andrew Hsia gestures at a press conference on May 19 last year.
Photo: Chen Chih-chu, Taipei Times
His former posts include deputy minister of foreign affairs, representative to Indonesia and head of the representative office in New York.
During his more than three years in Indonesia, he promoted bilateral trade and cultural and educational exchanges, including joint development of the Morotai Island project and an industrial park in Jakarta.
The Executive Yuan appointed Hsia deputy minister of defense in 2013, saying that although he lacked a military background, it wanted to take advantage of his diplomatic experience to facilitate military procurements and diplomacy.
Turning his focus from diplomatic and defense issues to setting policy on China, Hsia will immediately face the thorny issue of China's planned opening of new flight routes in the Taiwan Strait, to which Taipei objects for flight safety and sovereignty reasons.
Beijing has said that it would implement the new routes on March 5.
Hsia is also expected to address cross-strait economic cooperation and regional economic integration.
Wang tendered his resignation on Tuesday last week after prosecutors declined to indict former MAC deputy minister Chang Hsien-yao (張顯耀) on charges of leaking national secrets to China.
Wang forced Chang to quit in August last year on the suspicion that the former deputy had handed over state secrets to Beijing.
Comments will be moderated. Keep comments relevant to the article. Remarks containing abusive and obscene language, personal attacks of any kind or promotion will be removed and the user banned. Final decision will be at the discretion of the Taipei Times.