Strauss-Kahn goes on trial in France on pimping charges
Dominique Strauss-Kahn went on trial on sex charges in France yesterday — the nation where he was once considered a top presidential contender.
The former managing director of the IMF, whose career nosedived amid accusations of sexually assaulting a hotel maid in New York, is facing charges in France: aggravated pimping and involvement in a prostitution ring operating out of luxury hotels.
The economist faces up to 10 years in prison and a 1.5 million euro (US$1.7 million) fine, as he and more than a dozen other French and Belgian businessmen and police officers go on trial in the northern French city of Lille.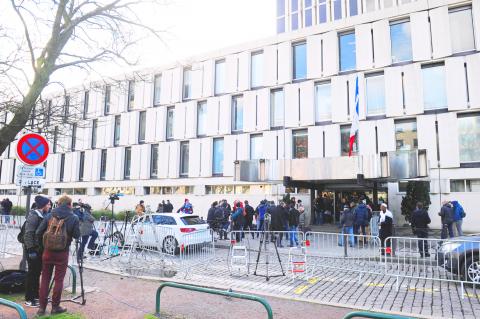 Journalists yesterday gather outside the Lille courthouse, in Lille, France, on the first day of the so-called "Carlton Affair" trial involving former IMF managing director Dominique Strauss-Kahn and several other defendants on prostitution-linked charges.
Photo: AFP
The trial is scheduled to last three weeks, with Strauss-Kahn not expected to testify until Feb. 10.
Investigators have compiled hundreds of pages of testimony from prostitutes describing the orgies allegedly organized by the 65-year-old Strauss-Kahn and his co-defendants, centered on the Carlton Hotel in Lille near the Belgian border.
Strauss-Kahn says he took part in "libertine" activities, but insists he never knew the women involved were prostitutes.
It is not illegal to pay for sex in France, but it is against the law to solicit or to run a prostitution business.
Hundreds of reporters are expected to cover the trial, making it one of the highest-profile cases in France in years.
In May 2011, Strauss-Kahn was accused of sexually assaulting Guinean-born maid Nafissatou Diallo in New York, accusations that ended his high-flying finance career.
Diallo told police he forced her to perform oral sex, tried to rape her and tore a ligament in her shoulder after she arrived to clean his luxury suite at the Hotel Sofitel in New York.
Strauss-Kahn was forced to resign from his US$500,000-a-year IMF position, even though New York prosecutors dropped the case three months later because they said Diallo had undercut her credibility by lying about her background and changing her account of her actions right after the alleged attack.
No sooner had the US action ended than Strauss-Kahn was named in the "Carlton Affair" case. French police detained and questioned him for 30 hours in 2012 as part of their investigation into the alleged prostitution ring.
Prostitutes questioned in the case said that between 2009 and 2011 Strauss-Kahn was organizing orgies at luxury hotels in Paris, at a restaurant in the French capital and also in Washington.
Investigating judges ordered him to stand trial in 2013, ignoring prosecutors' recommendation that the charge be dropped.
Comments will be moderated. Keep comments relevant to the article. Remarks containing abusive and obscene language, personal attacks of any kind or promotion will be removed and the user banned. Final decision will be at the discretion of the Taipei Times.