Apparent slaying of hostage convulses Japan
Appalled and saddened by news of Japanese journalist Kenji Goto's purported beheading by the Islamic State group, Japan ordered heightened security precautions yesterday and said it would persist with its non-military aid against terrorism.
The failure to save Goto raised fears for the life of a Jordanian fighter pilot also held by the militant group that controls about one-third of both Syria and Iraq. Unlike some earlier messages delivered during the crisis, the video that circulated online late on Saturday purporting to show a militant beheading Goto did not mention the pilot.
The slaying of Goto, a freelance reporter whose work focused on refugees, children and other victims of war, shocked Japan, which until now had not become directly embroiled in the fight against the extremists.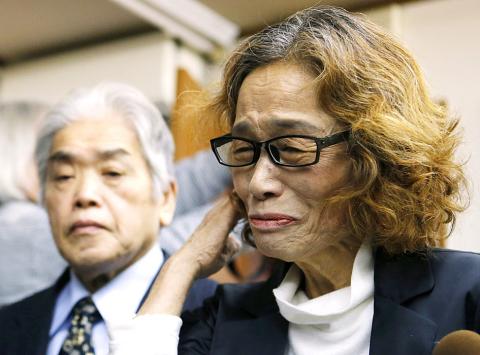 Junko Ishido, mother of Kenji Goto, a Japanese journalist who was taken captive by Islamic State group militants, speaks to reporters at her house in Tokyo yesterday.
Photo: Reuters
"I feel indignation over this immoral and heinous act of terrorism," Japanese Prime Minister Shinzo Abe told reporters after convening an emergency Cabinet meeting.
"When I think of the grief of his family, I am left speechless," he said. "We are filled with deep regret."
Threats from the group prompted tighter security at airports and at Japanese facilities overseas, such as embassies and schools, Japanese Chief Cabinet Secretary Yoshihide Suga said.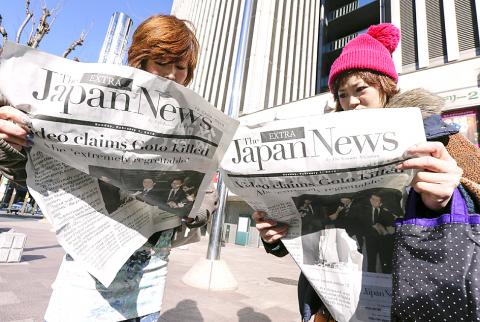 Women in Tokyo yesterday read newspapers reporting about an online video that purportedly showed Japanese hostage Kenji Goto being killed by Islamic State group extremists.
Photo: EPA
He said it would be "inappropriate" to comment on the status of Jordanian pilot Lieutenant Muath al-Kaseasbeh, who was captured in December last year when his jet crashed near the de facto capital of the group formerly known as the Islamic State of Iraq and the Levant.
Jordanian government spokesman Mohammed al-Momani also declined to comment. Earlier last week, Jordan offered to free an al-Qaeda prisoner for the pilot, but demanded — and said it never received — proof that he was alive.
With no updates for days, al-Kaseasbeh's family appealed to the Jordanian government for information on his situation. For Goto's family and friends, the beheading shattered any hopes for his rescue.
"Kenji has died, and my heart is broken. Facing such a tragic death, I am just speechless," Goto's mother, Junko Ishido, told reporters.
"I was hoping Kenji might be able to come home," Goto's brother, Junichi Goto, said in a separate interview. "I was hoping he would return and thank everyone for his rescue, but that is impossible, and I am bitterly disappointed."
According to his friends and family, Goto traveled to Syria in October last year to try to save Haruna Yukawa, 42 — taken hostage in August and shown as purportedly killed in an earlier video.
"He was kind and he was brave," Yukawa's father, Shoichi, said. "He tried to save my son."
The White House released a statement in which US President Barack Obama also condemned "the heinous murder" and praised Goto's reporting, saying he "courageously sought to convey the plight of the Syrian people to the outside world."
In Jordan late on Saturday, the pilot's relatives and supporters of held a candlelit vigil inside a family home in Karak, his hometown in the nation's south.
We "decided to hold this protest to remind the Jordanian government of the issue of the imprisoned pilot Muath al-Kaseasbeh," his brother Jawdat al-Kaseasbeh said.
Comments will be moderated. Keep comments relevant to the article. Remarks containing abusive and obscene language, personal attacks of any kind or promotion will be removed and the user banned. Final decision will be at the discretion of the Taipei Times.