Thousands protest in Asia against 'Charlie Hebdo'
Tens of thousands of people across Afghanistan, Pakistan and Muslim-majority Indian Kashmir took to the streets on Friday for southern Asia's biggest protests yet against satirical magazine Charlie Hebdo's cartoon portrayal of the Prophet Mohammed.
Up to 20,000 demonstrators in the western Afghan city of Herat and 15,000 in Islamabad burned French flags and chanted slogans calling for France's downfall, while a smaller Pakistani protest saw an effigy of French President Francois Hollande set on fire.
In Srinagar, the largest city on the Indian-controlled side of the disputed region of Kashmir, police clashed with about 3,000 demonstrators after shops and businesses were ordered to close by a leading Muslim organization and several separatist groups.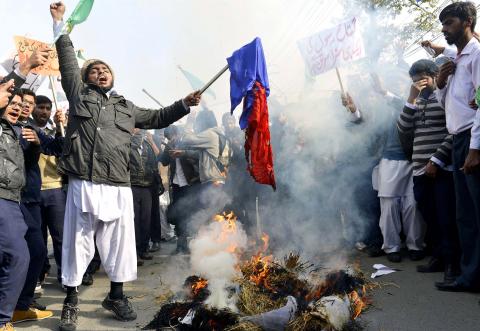 Students in Lahore, Pakistan, yesterday burn an effigy representing French cartoonists during a protest against French magazine Charlie Hebdo which printed material featuring the Prophet Mohammed.
Photo: AFP
The clashes broke out when police fired smoke canisters and shot into the air to disperse a group of protesters who began chanting "Down with Charlie Hebdo" after emerging from mosques.
Muslim gunmen stormed the offices of French weekly Charlie Hebdo — which has published controversial cartoons of the prophet on several occasions — in Paris on Jan. 7 last year, killing 12 people.
In response, Charlie Hebdo last week published a "survivors" issue with an image of Mohammed weeping on the cover, which has led to small, sporadic protests across Pakistan and Afghanistan.
Friday's rally in Islamabad was led by the Jamaat-e-Islami party and demonstrators burned French, British and US flags, urging Pakistan to cut ties with Paris and calling for a boycott of French products.
Carrying placards and banners, protesters in Islamabad chanted: "death to France," "our prophet, our honor" and "death to the blasphemers."
Jamaat-e-Islami leader Siraj-ul-Haq called for a UN ban on blasphemy, while Khawaja Saad Rafique, a federal minister in the Pakistani Cabinet, also condemned the depiction of the prophet by Charlie Hebdo as "hate speech, journalistic terrorism."
Comments will be moderated. Keep comments relevant to the article. Remarks containing abusive and obscene language, personal attacks of any kind or promotion will be removed and the user banned. Final decision will be at the discretion of the Taipei Times.