Legislators pass new HIV regulations
Foreigners with HIV are no longer banned from entering, staying or residing in the nation, after amendments to the HIV Infection Control and Patient Rights Protection Act (人類免疫缺乏病毒傳染防治及感染者權益保障條例) were passed yesterday by the legislature.
The amendments include the removal of Article 18, which stipulated that people of foreign nationalities were subject to a request for a recent HIV test report if they wished to remain in the nation for more than three months and could be deported or have their visas and permits annulled if the test result was positive.
Chinese Nationalist Party (KMT) Legislator Yang Yu-hsin (楊玉欣) said that the UN has long argued that there is no evidence that restrictions on entry, stay and residence of HIV-positive people protect public health and "there are only 28 countries left with such restrictions on people living with HIV."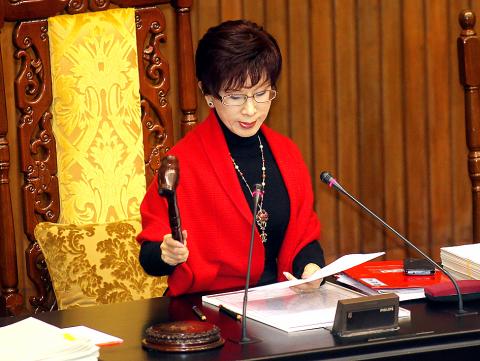 Deputy Legislative Speaker Hung Hsiu-chu bangs a gavel in the legislature in Taipei yesterday to mark the passage of bills that cleared the floor.
Photo: CNA
Democratic Progressive Party Legislator Chao Tien-lin (趙天麟) and other lawmakers who proposed the amendments said that to move in line with the global trend on human rights protection, "there is no reason to impose restrictions, particularly on people with HIV."
The US, South Korea and China have removed similar restrictions in recent years, the lawmakers added.
Another change to the law is the inclusion of an additional clause to Article 15 — in which it is stated that medical personnel "shall only collect blood of the individuals for HIV testing upon gaining the consent of the individuals concerned after going through counseling procedures" — that allows the collection and testing of certain groups of people without their or their legal representatives' consent.
The designated groups include medical personnel and emergency response personnel, who are exposed to the risk of HIV infection in their work by coming into contact with blood and bodily fluids, individuals who have fallen unconscious and infants born to unidentified mothers.
The revised act also stipulates that the National Health Insurance (NHI) system will cover the costs of the medical treatment of people with HIV after two years of medications provided by the competent authority, which is the Ministry of Health and Welfare's Centers for Disease Control (CDC).
The CDC will continue to partially shoulder the medical costs that are not covered by the NHI after two years of adherence to therapy to make sure that the patients do not unilaterally terminate the treatment out of financial concerns, Yang said.
Comments will be moderated. Keep comments relevant to the article. Remarks containing abusive and obscene language, personal attacks of any kind or promotion will be removed and the user banned. Final decision will be at the discretion of the Taipei Times.