Six indicted in Chinese espionage ring case
Taipei prosecutors yesterday indicted five Taiwanese, including four retired military officers, and a retired Chinese army officer on charges of espionage and leaking state secrets, in a case authorities said involved the largest Chinese spy ring that had operated in Taiwan for some years.
The Taipei District Prosecutors' Office said the spy ring, allegedly headed by former People's Liberation Army (PLA) officer Zhen Xiaojiang (鎮小江), had passed classified military information about Taiwan's radar stations, advanced aircraft and other weapon systems to China.
"Zhen was under instruction to recruit both retired and active service Taiwanese military officers to develop a network for espionage against Taiwan, which has done severe damage to our national security," the office said in a statement.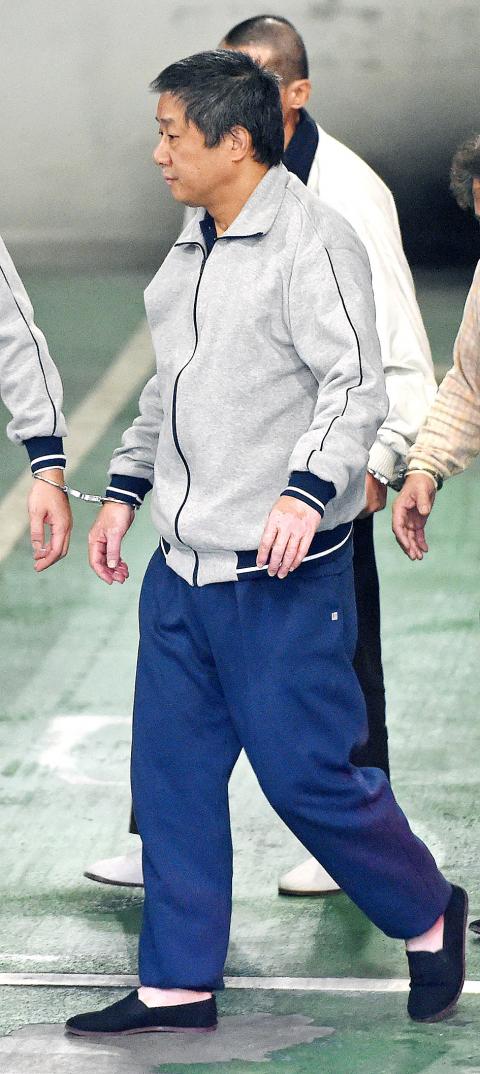 Zhen Xiaojiang, a former Chinese military officer alleged to have recruited retired Taiwanese military officers, is escorted by guards in Taipei yesterday.
Photo: Liao Chen-huei, Taipei Times
Previous reports have said that Zhen, who reportedly joined China's intelligence agency after retiring from the PLA, obtained Hong Kong residency in 2005, and had since entered Taiwan numerous times on business and tourist visas.
The Taiwanese defendants are former army major-general Hsu Nai-chuan (許乃權), air force colonel Chou Chih-li (周自立), air force pilot Sung Chia-lu (宋嘉祿), air force official Yang Jung-hua (楊榮華), and Lee Huan-yu (李寰宇), a Greater Kaohsiung nightclub operator.
According to prosecutors, through the retirees he recruited, Zhen was able to make contact with active duty officers who had access to classified materials, which he handed over to a senior Chinese military intelligence official known by the pseudonym of Mao Shangyu (毛尚云).
Investigators said the spy ring passed on classified information on the Mirage 2000 aircraft, the ultra-high-frequency radar installation on Leshan (樂山) in Hsinchu County, and more sophisticated military weaponry and technology.
Prosecutors allege that Zhen paid his informants about NT$300,000 and provided free trips to Southeast Asia in return for the classified military material, and arranged for some of them to meet Chinese intelligence officers while abroad.
Prosecutors said investigators are still following up the leads, and the probe could be expanded and more charges filed.
Hsu served as a commander of Kinmen's defense command, a commander at the Republic of China Military Academy in Greater Kaohsiung and was once in charge of defense on Matsu.
Comments will be moderated. Keep comments relevant to the article. Remarks containing abusive and obscene language, personal attacks of any kind or promotion will be removed and the user banned. Final decision will be at the discretion of the Taipei Times.