Police chief retirement approved, says decision not connected to Ko admonition
The application for early retirement of Taipei's Xinyi District (信義) police chief Lee Te-wei (李德威) was approved yesterday, leading to fervid speculation that his move was related to admonition Taipei Mayor Ko Wen-je (柯文哲) gave to him.
Ko warned Lee, 54, on national television two weeks ago, threatening to fire him if the police department is unable to prevent future occurrence of repeated attacks on Falun Gong practitioners by members of the pro-unification Patriot Association (愛國同心會) near the Taipei 101 building.
In a short statement, Lee denied that there was any connection between his decision and the mayor's criticism.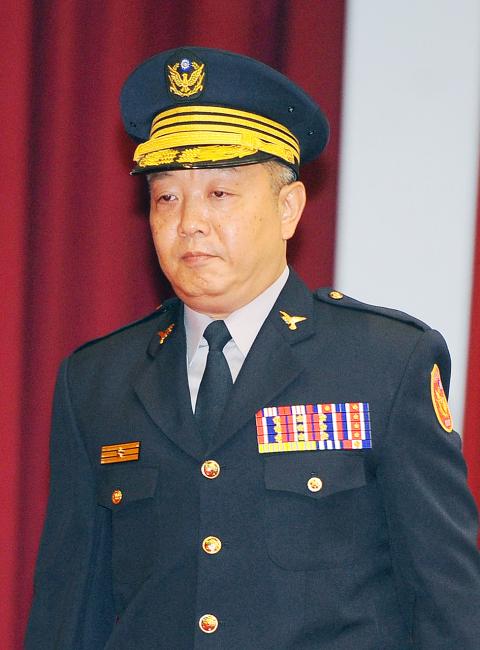 Xinyi District Police Chief Lee Te-wei is pictured on Sept. 5 last year.
Photo: Wang Min-wei, Taipei Times
"Even though it comes at a tricky time, my retirement has been a long time coming," he said.
Lee's wife, Taipei fire department chief secretary Yang Ping-fen (楊炳芬), 55, also announced her retirement from her position.
Lee's retirement sparked rampant speculation in local media, with Chinese-language newspaper United Daily News linking it to Lee's reportedly close relationship with former Taipei mayor Hau Lung-bin (郝龍斌) of the Chinese Nationalist Party (KMT).
In a statement on Facebook, Hau said he was "extremely reluctant" to see Lee go, adding he had "heavily relied" on Lee in communications between the police department and the Taipei City Council during his time in office.
Hau praised Lee and Yang as "intelligent, capable, loyal and responsible officials."
The United Daily News also speculated that Yang's decision was linked to Ko's public admonition last week of the city's fire department performance.
"We must respect people's decisions," Ko said when questioned about Lee's resignation.
He said that given retirement has to be applied for well in advance, it was unlikely that Lee's decision was related to his criticism.
Ko said that he was not worried about the possibility of officials applying for retirement or job transfers following new requirements for officials to be available around the clock via the Line application, adding that it was difficult for officials to transfer.
In an interview with the Liberty Times, the Taipei Times' sister newspaper, Yang said that her husband had first thought about retiring in September last year, with his desire to retire growing stronger after a controversial police officer death in his district.
She added that she "had not seen him in a long time" because of the heavy weight of the duties he bore as police chief, often not coming home for more than 10 days because of incidents at Xinyi District night clubs on weekend nights.
She said she was unable to comment on whether Lee's decision was linked to Ko's criticism, but added that she "could not understand" why Ko would make the comments.
Lee's daughter Sara Lee (李培毓) in a Facebook statement defended her father from netizens comparing him to a "rotten strawberry," unable to bear up under pressure from his boss.
She said netizens who made the comments had no understanding of the difficulties that police officers face.
Comments will be moderated. Keep comments relevant to the article. Remarks containing abusive and obscene language, personal attacks of any kind or promotion will be removed and the user banned. Final decision will be at the discretion of the Taipei Times.