President calls for reconciliation in New Year's speech
'EMPTY WORDS': Skeptics said reconciliation would be hard if Ma could not even mend relations with Wang Jin-pyng and grant Chen Shui-bian medical parole
President Ma Ying-jeou (馬英九) yesterday called for social reconciliation, cross-party cooperation and peace across the Taiwan Strait in his New Year's Day address.
Acknowledging the public dissatisfaction that led to the Chinese Nationalist Party's (KMT) landslide defeat at the polls in November, the president said he was willing "to take whatever blame there may be."
"If we who are responsible for governing the country fail to critically assess our performance and find ways to dispel dissatisfaction and antagonism, society will not remain at peace for long," he said.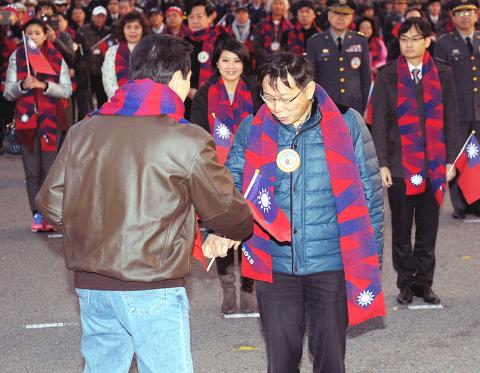 President Ma Ying-jeou, left, and Taipei Mayor Ko Wen-je stand together for the first time since Ko was elected at the New Year's flag-raising ceremony in front of the Presidential Office yesterday. The two shared an awkward handshake, with Ko still holding a miniature flag in his hand.
Photo: CNA
The president said he understood public clamor for reform, and the government would focus on promoting reconciliation, cooperation between the ruling and opposition camps, and maintaining cross-strait peace.
Referring to the student protests early last year, Ma said it was "a good thing when seen from a long-term perspective," because it shows that the younger generation is concerned about society."
Known as the Sunflower movement, protesters occupied the legislative chamber in March and April to voice their opposition to the government's opaque handling of a proposed service trade agreement with China.
Ma said the economy has regained momentum, but young people are still facing "tepid economic and wage growth."
As a response to the energetic activism and social discontent with policymaking last year, he said the government "welcomes diverse opinions in a process marked by open access to information, transparent decisionmaking and a more accessible interface."
Calling for cooperation between the different political camps, the president said the nation "cannot afford the luxury of disunity."
"Improving relations between the two [camps] may take time, but Taiwan faces too many pressing matters that must be dealt with over the next year and more. There is no more time to waste," he said.
He said he would support political dialogue or cooperation in any form and welcome a national affairs conference "on any issue" to help ease tensions.
Ma, who has largely focused on the peaceful development of cross-strait relations during his time in office, reiterated that the nation "will continue to maintain the 'status quo' of no unification, no independence and no use of force under the framework of the ROC [Republic of China] Constitution and on the basis of the '1992 consensus.'"
He added that there have been "concrete results of the gradual institutionalization of cross-strait relations [achieved in] the past six-and-a-half years."
Ma's "goodwill speech" notwithstanding, political pundits and lawmakers appear to be unconvinced by his call for reconciliation, especially in light of ongoing tensions over the issue of medical parole for former president Chen Shui-bian (陳水扁).
Many were hoping that Chen would be able to go home on New Year's Eve after a medical team recommended that he be granted medical parole, but the Ministry of Justice said on Wednesday that it would not be able to decide until Monday because vital documents were not delivered on time.
Former Democratic Progressive Party (DPP) culture and information director Super Meng (孟義超) dismissed the president's speech as empty words.
"Reconciliation between the two political camps is a nonstarter when you cannot even have peace with your party colleague [Legislative Speaker] Wang Jin-pyng (王金平)," Meng said.
"If [Ma] had announced a retraction of the lawsuit against Wang or the immediate release of Chen, [Ma's] so-called reconciliation efforts would not have been merely lip service," he said.
Media personality Clara Chou (周玉蔻) said the speech was "empty," since "no one would believe that Ma has the will or power to execute his calls [of reconciliation]" after the delay of Chen's release, which "was obviously a political decision."
By separating the issues of young people's discontent and the cross-strait framework as if there was no connection between the two, the president has shown that "he does not understand the problem," DPP spokesperson Cheng Yun-peng (鄭運鵬) said.
"[New Taipei City Mayor and] KMT chairman candidate Eric Chu (朱立倫) has at least mentioned that cross-strait dealings have been monopolized by wealthy and powerful people, and promised to make changes to that," Cheng added.
DPP Legislator Kuan Bi-ling (管碧玲) said that while the president asked people to direct their dissatisfaction toward him, "he is the source of public dissatisfaction."
KMT Legislator Lin Kuo-cheng (林國正) said that finding the source of public dissatisfaction is necessary to solve the problem of public discontent.
The problem will not simply disappear because the president calls for it, Lin said.
Comments will be moderated. Keep comments relevant to the article. Remarks containing abusive and obscene language, personal attacks of any kind or promotion will be removed and the user banned. Final decision will be at the discretion of the Taipei Times.