US' Obama spurns Republicans with immigration orders
US President Barack Obama on Thursday night unveiled expansive executive actions on immigration to spare nearly 5 million people in the US illegally from deportation, setting off a fierce fight with Republicans over the limits of presidential powers.
In a televised address to the nation, Obama defended the legality of his actions and challenged Republican lawmakers to focus their energy not on blocking his measures, but on approving long-stalled legislation to take their place.
"To those members of Congress who question my authority to make our immigration system work better, or question the wisdom of me acting where Congress has failed, I have one answer: Pass a bill," Obama said.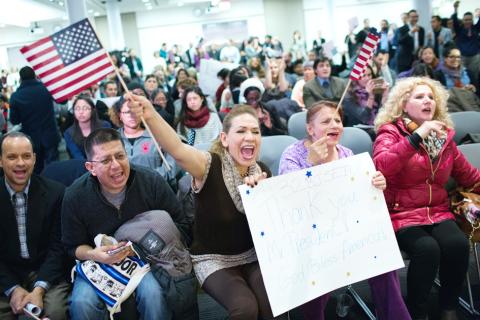 Lilian Aguayo, left, Fadila Mrkulic and Tatiana Lambert hold signs and wave flags at the offices of 32BJ SEIU, a workers' union, during a viewing party for US President Barack Obama's speech on executive action immigration policy reform on Thursday in New York.
Photo: AFP
As Obama spoke from the White House, immigration supporters with US flags draped over their shoulders marched on Pennsylvania Avenue outside carrying signs that read: "Gracias, Presidente Obama."
The address marked the first step in the White House effort to promote the executive actions to the public. Obama was to speak yesterday at a campaign-style rally in Las Vegas.
Despite Obama's challenge to Republicans to pass a broader immigration bill, his actions and the angry Republican response could largely stamp out those prospects for the remainder of his presidency.
Republicans, emboldened by their sweeping victories in the midterms, are weighing responses to the president's actions that include lawsuits, a government shutdown and in rare instances, even impeachment.
"The president will come to regret the chapter history writes if he does move forward," US Senator Mitch McConnell, who is soon to become the Senate majority leader, said before Obama's address.
While Obama's measures are sweeping in scope, they still leave more than half of the 11 million people living in the US illegally in limbo.
The main beneficiaries of the president's actions are immigrants who have been in the US illegally for more than five years, but whose children are citizens or lawful permanent residents. After passing background checks and paying fees, those individuals will soon be able to seek relief from deportation and get work permits. The administration expects about 4.1 million people to qualify.
Obama will also expand eligibility to people who arrived in the US as minors before 2010, instead of the current cutoff of 2007, and will lift the requirement that applicants be under 31. The expansion is expected to affect about 300,000 people.
Immigration-rights activists gathered at watch parties around the country to listen to the president announce actions they have sought for years.
"This is a great day for farmworkers. It's been worth the pain and sacrifice," said Jesus Zuniga, a 40-year-old fruit picker who watched the speech at a union gathering in Fresno, California.
However, in New York City, a couple of protesters held "no amnesty" signs outside a New York union office where advocates of the president's plan were gathering to watch him and celebrate.
"We have a lot of unemployed Americans right now, and I don't understand why unemployed Americans can't be hired to do the jobs these illegals are doing," said John Wilson, who works in contract management.
Comments will be moderated. Keep comments relevant to the article. Remarks containing abusive and obscene language, personal attacks of any kind or promotion will be removed and the user banned. Final decision will be at the discretion of the Taipei Times.