Legislator under fire over organ-harvesting claims
BRAIN DEAD: Netizens joined a petition slamming a KMT lawmaker over his accusations that NTUH doctors were letting trauma patients die to harvest their organs
Tens of thousands of netizens yesterday signed an online petition initiated by a group of doctors calling for the resignation of Chinese Nationalist Party (KMT) Legislator Su Ching-chuan (蘇清泉) as chairman of the Taiwan Medical Association, saying that the lawmaker's accusations against National Taiwan University Hospital's (NTUH) organ transplant procedures insulted the medical industry as a whole.
The initiators of the petition included NTUH's Department of Obstetrics and Gynecology attending physician Shih Jin-chung (施景中), Kaohsiung Municipal United Hospital's Division of Urology attending physician Tsai Hsiu-nan (蔡秀男), Changhua Christian Hospital pediatrician Chien Jien-wen (錢建文) and Taipei Municipal Gan-Dau Hospital's Division of Family Medicine doctor Fang Jui-wen (方瑞雯).
It was launched at 10pm on Thursday, hours after Su and another KMT physician-turned-legislator, Liao Kuo-tung (廖國棟), accused the NTUH — the nation's leading hospital — of having given high doses of phentolamine and heparin to dozens of trauma patients in the past 15 years to cause them to die, for the sole purpose of making them eligible as organ donors and deceiving district prosecutors into issuing their death certificates.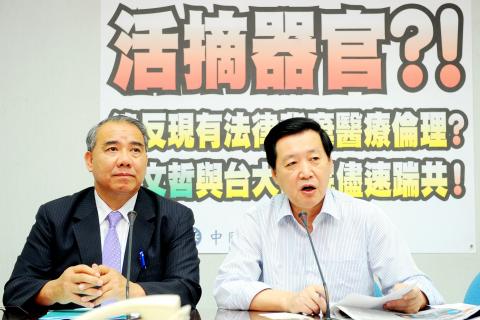 Chinese Nationalist Party (KMT) legislators Liao Kuo-tung, left, and Alex Fai hold a press conference in Taipei yesterday, making allegations of unethical behavior involving independent Taipei mayoral candidate Ko Wen-je and organ donations.
Photo: Wang Min-wei, Taipei Times
The pair insinuated that the hospital used drugs to cause cardiac arrest in the patients before they were declared brain dead, and then connected them to an extracorporeal membrane oxygenation (ECMO) machine to improve the viability of their organs.
The accusations are perceived as an attempt to tarnish the integrity of physician-turned-independent Taipei mayoral candidate Ko Wen-je (柯文哲), who once served as convener of the hospital's organ procurement team and was the director of its emergency care team for a time from 2008.
"Su's move to spread unverified rumors degrading to the medical community in the legislature suggests that he is no longer fit to serve as chairman of the Taiwan Medical Association. We request that Su focus on his job as a lawmaker and immediately resign his chairmanship," the petition said.
It said that Su's tarnishing of the medical profession's reputation and his unfounded accusations have unnerved the public, saddened the families of organ donors and impeded the nation's future developments in organ procurement and transplantation.
"We urge Su to hand over the chairmanship and apologize for launching a smear campaign against the nation's organ donation system," the petition said.
At press time last night, the petition — at www.facebook.com/events/744223215651746 — had more than 20,000 signatures.
Other doctors also took to Facebook to vent their discontent at the lawmakers' accusations.
Wan Fang Hospital's Surgery Department deputy director Li Shao-jung (李紹榕) said that when a person's heart suddenly stops beating, blood and oxygen cannot be transported to the body's vital organs.
"In this condition, phentolamine is injected to cause blood vessels to expand and thus increase blood flow to tissue and organs, while heparin is administered to prevent blood clots... These drugs are definitely not the demons the two physician-turned-legislators claim them to be," Lee said.
Lee said the fact that someone who represents the Taiwan Medical Association would believe unsubstantiated rumors and that the nation's most reputable hospital would tolerate "purposeful murder of its patients" is a disgrace to the medical community as a whole.
Min Sheng General Hospital Division of Neurosurgery director Antonio Carlos Ko (柯紹華) said that as a neurosurgeon and a physician accredited to determine brain death, he found Su's remarks utterly intolerable.
Antonio Carlos Ko called Su "a self-proclaimed doctor hiding behind the immunity bestowed upon him by his job as a legislator and questioning the endeavors made by other medical professionals in the field of organ donation."
"He accused his fellow doctors of retrieving patients' organs while they were still alive, and claimed that there have been cases in which brain-dead patients regained consciousness and returned to a normal life," he said.
The cases Su mentioned were of people who were in a deep coma rather than brain dead, Antonio Carlos Ko said, adding that trained doctors are expected to know the difference.
"It is evident that Su has sought to distort facts and used his medical knowledge as leverage to launch political attacks," Antonio Carlos Ko said.
In response, Su said in a statement issued later yesterday that while the timing of his accusations might seem inappropriate, the NTUH's alleged wrongdoings would deal a heavier blow to the image of the medical industry if he had chosen to remain silent and cover for the hospital.
"There will be no medical advances without transparency. Was not a lack of transparency in the government's handling of the recent food scares ... that forced the former minister of health and welfare [Chiu Wen-ta, (邱文達)] and the former director of the Food and Drug Administration [Yeh Ming-kung (葉明功)] to step down?" Su said.
Comments will be moderated. Keep comments relevant to the article. Remarks containing abusive and obscene language, personal attacks of any kind or promotion will be removed and the user banned. Final decision will be at the discretion of the Taipei Times.