Lien says DPP taught 'wrong thinking'
GOOD OLD DAYS: In two speeches, the former vice president accused the then-DPP government's policies of spoiling the nation's youth, before hitting out at Ko Wen-je
The de-Sinicization policy that the Democratic Progressive Party (DPP)-led government carried out after the Chinese Nationalist Party (KMT) lost power in 2000 instilled a "wrong mode of thinking" in the younger generation that has turned them into people who spread distorted messages online or in newspapers that destabilize society, former vice president Lien Chan (連戰) said yesterday, before hurling a string of criticisms at independent Taipei mayoral candidate Ko Wen-je (柯文哲).
Lien made the remarks at the founding ceremony of a support group for his son, KMT Taipei mayoral candidate Sean Lien (連勝文), whose main opponent in the Nov. 29 election is Ko.
"Ever since the KMT lost power in 2000, [then-president Chen Shui-bian's (陳水扁) administration] started implementing a series of 'de-Sinicization' policies, forcing children at the age of 11 or 12 to receive non-Sinicized education," Lien Chan said in his speech.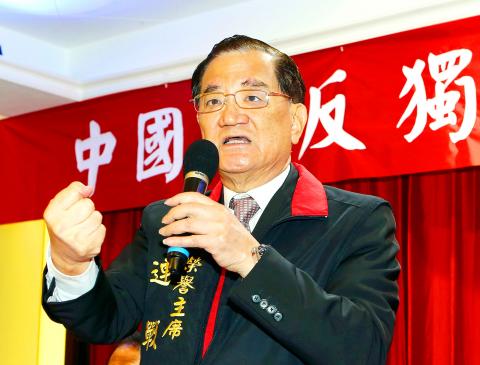 Former vice president Lien Chan, Chinese Nationalist Party (KMT) Taipei mayoral candidate Sean Lien's father, yesterday speaks in his capacity as former KMT chairman at an anti-independence meeting at the Friends of Armed Forces Association in Taipei.
Photo: CNA
"We were saddened to see Chinese ethics, traditional morality and history being twisted to such an extent. As for those children who grew up being fed erroneous ideas, they are now in their 20s or 30s and may have different occupations, such as in the media or Internet sectors," he added. "As you can all see, we [myself and my son] have fallen victim to distorted comments online and in the media that have unnerved our society."
He then took aim at Ko, saying that as the third-generation descendant of a man who served the Japanese colonial government, Ko had received "imperialization" education and therefore dismisses everything pertaining to "Zhonghua culture" (中華文化), including its values and history.
"Also, the non-partisan alliance Ko has been pushing is simply an aggregation of Taiwanese independence advocates … who are in essence controlled and manipulated by the DPP," Lien Chan said.
Lien Chan continued his attack on Ko at another event, a meeting held by the Alliance of Anti-Independence Chinese (中國人反獨護國大同盟).
"I absolutely cannot stand the thought of having someone whose grandfather changed his surname to a Japanese one during the Japanese colonial era as mayor of Taipei. He [Ko] calls himself a commoner and us the privileged few. What a bastard," he said.
The former vice president then described Ko as a narrow-minded person filled with hatred, arrogance and discrimination, and he urged Taipei residents to use their ballots to hand the independent a "miserable" defeat.
Turning to the Sunflower movement that erupted in March against the government's handling of the cross-strait service trade agreement, the 78-year-old said that while some of the nation's youngsters are well-bred, socially connected and received a good education, others base their moral judgements solely on de-Sinicized textbooks, like those students who "caused troubles" during the movement.
"Because of the poorly revised textbooks, these students think they can publicly declare that they are not Chinese. They have the entire day to do nothing except surf the Internet and form something akin to an online army that propagates malicious rumors," Lien Chan said. "It was all their [the Sunflower participants'] doing."
Meanwhile, Ko expressed shock at Lien Chan's remarks.
"He [Lien Chan] said I am the descendant of an official? My father was an elementary-school teacher," Ko said, adding he was born in 1959 and "educated in the school system of the Republic of China, all the way from elementary school to university."
DPP spokesperson Huang Di-ying (黃帝穎) said that the remarks about Sunflower protesters shows that the former vice president's ideas go against the global tide of democracy, and are unlikely to benefit his son's campaign.
The Taiwan Citizen Union's youth volunteer group convener, Syu Wei-ting (許韋婷), dismissed Lien Chan's comments about young people.
"People from older generations, not the younger ones, should be the ones taking responsibility for many of the problems [Lien Chan said are] causing 'chaos' in Taiwan right now," Syu said.
"Young people's use of media and Internet tools has only revealed existing problems, not created new ones," Syu said. "In addition, when we were growing up, we still devoted some of our studies to the history and geography of China, learning a vast amount of information that is completely unrelated to our homeland."
Additional reporting by Loa Iok-sin and Lii Wen
Comments will be moderated. Keep comments relevant to the article. Remarks containing abusive and obscene language, personal attacks of any kind or promotion will be removed and the user banned. Final decision will be at the discretion of the Taipei Times.