Beijing, Seoul ink free-trade pact
DOMESTIC DIP: Taiwan's GDP is expected to take a hit from the deal, the Ministry of Economic Affairs said, as South Korea is the nation's top trade competitor in China
Chinese and South Korean leaders yesterday signed a "substantial conclusion" of a free-trade agreement that is expected to sharply reduce barriers to commerce between the two trading giants, but leaves in place those on rice and vehicles.
South Korea says the deal, which the neighbors negotiated for more than two years, would help its small and medium-sized producers of clothing, leisure goods and high-end electronics become competitive in China, thanks to the slashing of Beijing's import tariffs.
China is the world's largest exporter; South Korea ranks seventh.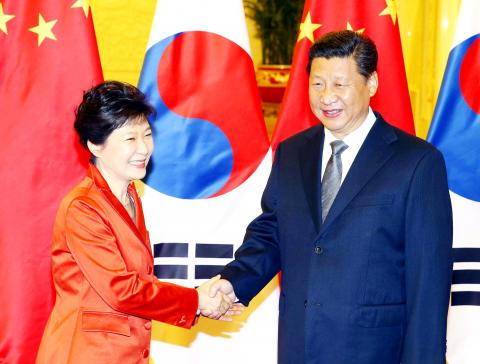 South Korean President Park Geun-hye, left, shakes hands with Chinese President Xi Jinping during a meeting at Beijing's Great Hall of the People yesterday on the sidelines of the APEC summit.
Photo: EPA
Chinese President Xi Jinping (習近平) and South Korean President Park Geun-hye signed the deal, which cleared all the bilateral trade issues and now faces legal and parliamentary reviews.
China's Xinhua news agency said the agreement covers 17 areas, including online commerce and government purchasing.
Woo Tae-hee, South Korea's assistant minister for trade and its head free-trade agreement negotiator, said Seoul focused on small and medium-sized business opportunities in China, instead of matured markets such as steel and petrochemicals.
South Korean farmers scuffle with policemen during a rally against the Chinese and South Korean governments' free-trade pact in front of the Gyeongsangnam-do Provincial Hall in Changwon City, South Korea, yesterday.
Photo: EPA
Lee Hang-koo, a senior researcher at South Korea's state-funded Korea Institute for Industrial Economics and Trade, said the exclusion of cars is welcome news for nation's car and auto parts manufacturers.
"They were concerned about the potential flooding of Chinese-made products into the country in the long term," he said.
Even though the agreement also excludes rice — in line with Seoul's insistence on protecting its domestic industry — there are doubts that South Korea's parliament will swiftly approve the pact.
Many South Korean farmers' groups oppose the deal.
Analysts in Seoul have said the deal would have a limited direct boost to bilateral trade or economic growth, but would help South Korea strengthen ties with China, the sole major ally of North Korea.
However, the trade pact is expected to hurt Taiwan's economy, as the nation is an export rival for South Korea.
Taiwan is expected to see a 0.5 percentage point decline in GDP, with total exports and total production output likely to drop by US$3.75 billion and US$8.9 billion respectively after the zero-tariff treatment of the free-trade agreement (FTA) takes effect, the Ministry of Economic Affairs said yesterday.
The impact will be even greater if the cross-strait trade in goods agreement between Taiwan and China is not completed in three to five years, an official said. Taiwan's industrial companies could lose NT$260 billion to NT$650 billion (US$8.5 billion to US$21.27 billion), Vice Minister of Economic Affairs Bill Cho (卓士昭) told reporters, citing research by the Industrial Technology Research Institute.
Cho said China is Taiwan's largest trading partner and South Korea is Taiwan's main trade competitor in the Chinese market, with 77 percent of Taiwan's exports in China overlapping with South Korea's.
Cho said that the China-South Korea FTA would have a great impact on Taiwanese industries, especially steel, autos, machine tools, displays, polarizers, petrochemicals, textiles and glass.
He said that "24.7 percent of Taiwanese industrial products, or US$38.6 billion, will be affected by China and South Korea's zero-tariff items."
About 2 percent to 5.4 percent of Taiwanese industrial products, or US$3.16 billion to US$8.42 billion, may be replaced by South Korean products in China, he added.
Citing machine tools as an example, Industrial Development Bureau Deputy Director-General Lien Ching-chang (連錦漳) yesterday said by telephone that about 17 types of Taiwan-made items are exempt from tariffs in China, but about 55 items are subject to import duties of 5 to 15 percent.
The bureau estimated that Taiwan's machine tool exports to China would drop by between US$50 million and US$80 million a year if China cuts tariffs on imports from South Korea to zero.
From January through September, Taiwanese machine tool exports to China reached about US$980 million, accounting for 12 percent of such imports in China, the Taiwan Machine Tool and Accessory Builders' Association said yesterday.
In comparison, South Korean machine tool exports to China totaled US$490 million, accounting for 6 percent of the market, it added.
Taiwan was the third-largest machine tool supplier to China, after Japan and Germany.
Bureau of Foreign Trade Deputy Director-General David Hsu (徐大衛) said that South Korea's foreign trade coverage ratio would increase from 41.93 percent to 62.66 percent following its free-trade pact with China.
Taiwan's foreign trade coverage ratio is only 9.68 percent, he said.
Additional reporting BY Camaron Kao
Comments will be moderated. Keep comments relevant to the article. Remarks containing abusive and obscene language, personal attacks of any kind or promotion will be removed and the user banned. Final decision will be at the discretion of the Taipei Times.