CDC issues warning after false reports about Ebola cases
The Centers for Disease Control (CDC) yesterday warned the public against spreading rumors about contagious diseases, after it discovered an online article alleging that "22 cases of the Ebola Virus have been confirmed in Taipei."
CDC staff found the English-language article yesterday morning, in which the anonymous author claimed that more than 22 cases of Ebola have been confirmed in Taipei, and that residents have been urged to stay home and keep abreast of the latest developments through television news, CDC Deputy Director-General Chou Jih-haw (周志浩) said.
"The Web site on which the unsubstantiated article is posted is an overseas online platform," Chou said, adding that the CDC has yet to determine "whether the author is residing in Taiwan or abroad."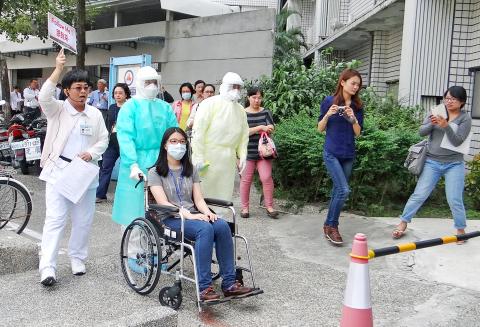 Staff and doctors conduct an Ebola simulation drill outside Taitung Hospital in Taitung City on Thursday.
Photo: Wang Hsiu-ting, Taipei Times
He said such behavior must be stopped immediately, regardless of who the rumormonger is.
The CDC has referred the case to prosecutors to investigate the identity and motives of the writer, who could face a maximum fine of NT$500,000 (US$16,700) for spreading such rumors, as stipulated in Article 63 of the Communicable Disease Control Act (傳染病防治法), Chou said.
The author in question may also be detained for less than three days for violating Item 5, Article 63, of the Social Order Maintenance Act (社會秩序維護法), which forbids circulating rumors that could unnerve the public.
Taiwan has reported two suspected cases of the often-deadly virus since the beginning of the current Ebola outbreak in west Africa in March, both of whom were cleared shortly afterwards.
The first case involved a 45-year-old Nigerian woman who arrived in Taiwan on Oct. 2 and was quarantined on Oct. 9 after she exhibited symptoms including fever, headache and joint pains.
The second involved a 55-year-old Nigerian man who stayed in Taiwan from Oct. 14 to Oct. 16 before traveling to China, where he showed signs of fever and was placed in isolation.
In an effort to prevent Ebola from entering the nation's borders, the CDC implemented a new measure last month requiring passengers on flights to Taiwan from European and Middle Eastern countries to fill out a "Ebola declaration card" detailing their travel history in the past 21 days.
Comments will be moderated. Keep comments relevant to the article. Remarks containing abusive and obscene language, personal attacks of any kind or promotion will be removed and the user banned. Final decision will be at the discretion of the Taipei Times.