HK students mob Leung Chun-ying, offer ultimatum
Hong Kong's striking students yesterday gave the territory's leader 48 hours to honor his promise to listen to the people, threatening further action if he failed to respond to their demands for greater democracy in the former British colony.
The students are facing a showdown with Beijing over its decision to rule out fully democratic elections for Hong Kong's next leader in 2017, with about 13,000 joining a rally at a university campus on Monday to mark the start of a week-long boycott of classes.
The ultimatum came after scuffles broke out when the students took their pro-democracy protest to government headquarters, where they pushed through barriers and rushed to meet Hong Kong Chief Executive Leung Chun-ying (梁振英) as he stepped out to meet the crowd in the Central business district.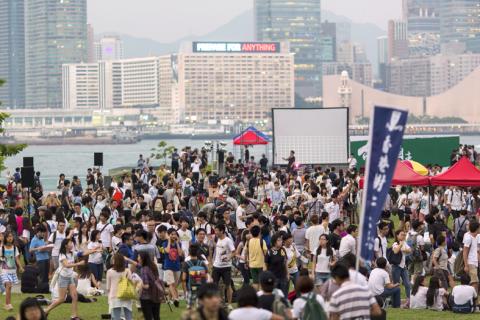 Students on strike attend lectures and speeches in Tamar Park, outside the Central Government Offices in Hong Kong yesterday.
Photo: EPA
Leung did not speak to the students, but told reporters that any political reform would need to take into account Beijing's wishes.
"If he doesn't come to the community in 48 hours to have direct dialogue with the students and the people, and answer people's questions, then we will definitely escalate the movement," Hong Kong Federation of Students leader Alex Chow (周永康) said.
The students urged Leung to join them on a protest stage, reserving a chair for him to step up and address them, and threatening further action if he did not respond. They did not elaborate.
The Federation of Students said that about 4,000 people had turned out to protest near the heart of Hong Kong's financial district yesterday.
Beijing last month rejected demands for people to freely choose the territory's next leader in 2017, insisting that candidates had to be pre-screened, prompting threats from pro-democracy activists to shut down Central.
"We will pay full attention to the views of all sectors of the community," Leung said. "All proposals to implement universal suffrage to elect the chief executive in 2017 have to be within the framework of the Basic Law and also the relevant decisions of the National People's Congress."
The Basic Law refers to the mini-constitution for post-1997 Hong Kong.
This week's student boycott of classes is the latest in a string of civil disobedience campaigns in Hong Kong.
Monday's protest was peaceful, but the mood was defiant at the university, where a black cloth was draped over a replica of the Goddess of Democracy statue, which Chinese students rallied around during a bloody crackdown on pro-democracy students in Beijing's Tiananmen Square on June 4, 1989.
The students' ability to mobilize thousands has made their support an increasingly important driver of the city's burgeoning civil disobedience movement.
For Beijing, the prospect of protracted student protests highlights one of their worst fears — a student movement that spreads across the mainland.
Comments will be moderated. Keep comments relevant to the article. Remarks containing abusive and obscene language, personal attacks of any kind or promotion will be removed and the user banned. Final decision will be at the discretion of the Taipei Times.