Rice in Beijing to prepare Obama visit
FRAUGHT TIES: The US' top security official was told by Yang Jiechi the countries need to 'truly respect each other's core interest,' amid South China Sea tensions
US National Security Adviser Susan Rice yesterday began talks in Beijing with top Chinese military and diplomatic officials on bilateral challenges, such as a recent close encounter between their air force planes over the South China Sea.
Rice met with Chinese State Councilor Yang Jiechi (楊潔篪) on a trip to pave the way for a visit by US President Barack Obama to Beijing in November.
Rice said that among all the other issues facing the US, Obama still considered China to be a priority and that her primary reason for coming to Beijing was to hammer out the agenda for the November meeting between Obama and Chinese President Xi Jinping (習近平).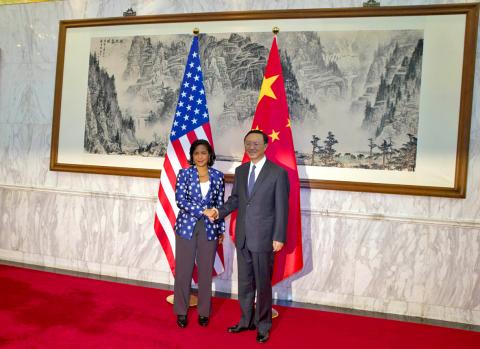 US National Security Adviser Susan Rice shakes hands with Chinese State Councilor Yang Jiechi before their meeting at the Diaoyutai State Guesthouse in Beijing yesterday.
Photo: AFP
At the sprawling Diaoyutai State Guesthouse in western Beijing, Yang told Rice that the countries needed to "truly respect each other's core interests and major concerns and constructively manage our differences and sensitive issues."
He said they would discuss military relations, counterterrorism, the Middle East, North Korea, South Sudan, Iran and other topics of mutual concern.
Rice is scheduled to meet today with China's national defense and foreign affairs ministers before departing tomorrow.
The countries' relationship has been tested by US allegations of Chinese military cyberspying and Obama's stated pivot to Asia, which China sees as an effort to contain its rising power.
On Aug. 19, a Chinese jet made several close passes near a US Navy P-8 Poseidon plane, coming within 9m of it at one point. The incident took place about 220km from Hainan Island, which is home to naval airfields and a highly sensitive submarine base.
China rejected US accusations that its pilot acted recklessly and unprofessionally, and says it will continue responding to US surveillance flights off its coast.
An editorial last week from Xinhua news agency referred to the encounter as an example of Washington's resorting to "provocations out of fear for Beijing's growing economic prowess and regional clout."
"What is also worrying is that the US leadership has apparently followed a bad tradition of taking China as scapegoat for its own messy domestic and foreign policies, while overlooking the big picture of China-US relations," the editorial said.
Rice also drew Chinese ire with her harsh criticisms of Beijing's approach to the crisis in Syria while serving as US ambassador to the UN, although the Xinhua editorial said she has since matured in her approach to China.
"Thus, Rice's first China trip in her current position comes at a particularly critical time when it is of great urgency for the United States to reaffirm its commitment and sincerity to Beijing by treating it as a true partner," Xinhua said.
Comments will be moderated. Keep comments relevant to the article. Remarks containing abusive and obscene language, personal attacks of any kind or promotion will be removed and the user banned. Final decision will be at the discretion of the Taipei Times.