Tests find oil legal, but not fit for food: FDA
FDA LAB TESTS: A sample from unrefined oil exceeded legal standards for acid value of edible lard, but a sample taken from a finished product was within the guidelines
Laboratory tests show allegedly tainted edible lard oil manufactured by Chang Guann Co (強冠企業) meets legal standards, but Food and Drug Administration (FDA) Deputy Director-General Chiang Yu-mei (姜郁美) yesterday said that does not mean that the oil should be allowed in foodstuffs.
Chiang said the lard oil was contaminated with ingredients that should never enter the human food chain.
"The Food and Drug Administration tested a total of four oil samples collected by the Greater Kaohsiung Government Department of Health on Thursday [last week], three from a two-story oil-water separation tank at a factory belonging to Hu Hsin-te (胡信德) and one from an oil tank at Chang Guann's factory in Greater Kaohsiung containing unrefined oil mixed with processed lard and recycled waste oil believed to have been sold by Hu to Kuo Lieh-cheng (郭烈成)," FDA Division of Research and Analysis Director Cheng Hwei-fang (陳惠芳) told a press conference in Taipei.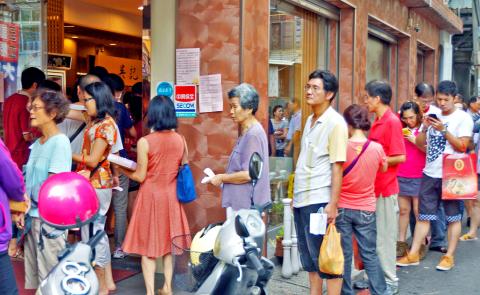 People line up outside a famous bakery in Greater Kaohsiung yesterday to return products after the shop became embroiled in the taint oil scandal centering on Chang Guann Co's edible lard oil products.
Photo: CNA
Kuo is the owner of a Pingtung County company that allegedly supplied tainted oil to Chang Guann. The Pingtung District Court on Saturday ordered him to be detained and held incommunicado.
The FDA also tested a sample taken from a carton of Chang Guann's lard oil manufactured on July 15 for acid value, benzo[a]pyrene, heavy metals, aflatoxin and animal ingredients, including beef, pork, fish and chicken.
Benzo[a]pyrene is one of a group of common compounds called polycyclic aromatic hydrocarbons, which are formed as a result of incomplete combustion of organic materials, and which can cause skin disorders and harmful reproductive effects in humans, as well as being a possible cause of cancer, according to the US Environmental Protection Agency. Aflatoxin is a toxin produced by mold that can damage the liver.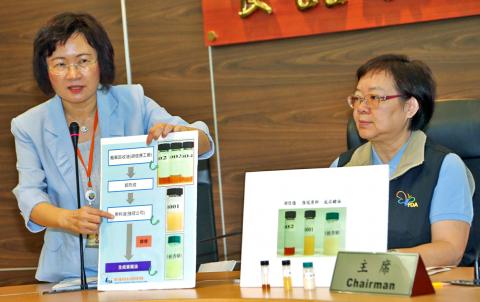 Food and Drug Administration Division of Research and Analysis Director Cheng Hwei-fang, left, and Deputy Director-General Chiang Yu-mei talk during a press conference in Taipei yesterday about the tainted oil scandal centering on Chang Guann Co's edible lard oil products.
Photo: CNA
"The three samples of Hu's recycled waste oil were found to contain excessive acid value at levels ranging from 2.7 to 3 milligrams of potassium hydroxide per gram of fat [mg KOH/g fat], benzo[a]pyrene at a concentration range of between 0.9 and 6.6 parts per billion [ppb] and extremely minimal residue of pork ingredients," Chen said.
"No residues of aflatoxin, polar compounds or heavy metals — namely lead, mercury, copper, tin or chromium — were detected, except for 0.01 to 0.02 parts per million of arsenic, which is below the maximum permissible level of 0.1ppm for edible oil," she said.
Chen said that under Chinese National Standards 2421-N5069, the acid value of edible lard must not exceed 1.3mg KOH/g fat, while the maximum limits permitted under EU law for benzo[a]pyrene in edible oil is 2ppb.
Chang Guann's unrefined oil was found to contain 0.03ppm of arsenic, 2.3mg KOH/g fat acid value and 1.1ppb of benzo[a]pyrene, Chen said.
However, after being refined, Chang Guann's finished product saw both its levels of acid value and benzo[a]pyrene drop below the legal limits, at 0.3 mg KOH/g fat and 0.7ppb respectively," Chen said.
Chiang said the test results show there is a need for manufacturers to adhere to tougher standards.
"The results underscore the need for a tougher control of food ingredients at the source because people cannot rely solely on laboratory tests as an indicator of the quality of cooking oil," Chiang said.
The laboratory test results also indicated that the waste oil could have been recycled mainly from restaurant fryers, rather than other sources such as fat discarded by leather factories, as has been rumored.
Chang Guann has been at the center of a snowballing oil scandal that erupted after 782 tonnes of its edible "fragrant lard oil" products were found to contain about 247 tonnes of recycled waste oil, which should have been disposed of or used in the production of soap.
As of yesterday, the FDA had identified 1,248 companies that bought the tainted edible oil or products made with them, up from 1,207 on Sunday, while it said the number of types of products contaminated with the waste oil rose from 136 on Sunday to 208.
Asked to comment on the FDA's test results, Linkou Chang Gung Memorial Hospital toxicologist Yen Tsung-hai (顏宗海) said that they left him with several concerns.
"First, the FDA did not collect enough samples for testing, nor did it take a sample of the waste oil sold by Kuo to Chang Guann. Chances are the test results only look nice because the samples the FDA tested on had been drawn from batches of oil that were less contaminated," Yen said.
Second, since the agency conducted standard tests, Chang Guann's problematic lard could contain other toxic substances that are not normally tested by the FDA, Yen said.
"If a student already knows what questions are going to be on a test, it will be harder to fail than to pass it," Yen added.
Additional reporting by staff writer
Comments will be moderated. Keep comments relevant to the article. Remarks containing abusive and obscene language, personal attacks of any kind or promotion will be removed and the user banned. Final decision will be at the discretion of the Taipei Times.