FDA releases list of affected companies
MINISTRY ACTION: Health and Welfare Minister Chiu Wen-ta said a task force would see that potentially tainted products are seized and dealt with properly
The Food and Drug Administration (FDA) yesterday released a list of 235 food companies nationwide that have reportedly purchased lard oil products believed to be tainted with recycled waste oil from cooking oil manufacturer Chang Guann Co (強冠企業), tarnishing the image of several large corporations and long-established pastry shops.
Aside from Wei Chuan Foods Corp (味全食品工業) — which immediately pulled 12 pork floss and meat paste products from stores on Thursday night after the food scare came to light — a number of household names are on the list of affected products, including state-run Taiwan Sugar Corp (台糖); food and seasonings manufacturer Ve Wong Corp (味王); Chi Mei Frozen Food Co (奇美食品); Sheng Hsiang Jen Foods Co (盛香珍食品); Gourmet Master Co (美食達人) — which owns the bakery and coffee chain 85oC (85度C); and Haw-Di-I Foods Co (好帝一食品) — which operates the popular barbecue sauce brand Bull Head (牛頭牌).
Also on the list is breakfast store Good Morning (早安美芝城); restaurant chain Wu Wha Ma Dumpling Home (五花馬); Magie du Levain (樂金食品) — which serves as the bakery for Hi-Life convenience stores (萊爾富); 137-year-old pastry chain Yu Jen Jai (玉珍齋); Lee Hu Cake Store (李鵠餅店) — a Keelung-based bakery store founded in 1882; and Tzu Wei Chen Food Co (滋味珍食品) — the former name of Black Bridge Foods (黑橋牌食品).
"The 235 firms combined bought a total of 51,981 cartons of fragrant lard oil manufactured by Chang Guann between March 1 and Sunday. Fifty-five of the companies are based in Greater Kaohsiung, 30 in Greater Tainan and 21 in New Taipei City," FDA Director-General Yeh Ming-kung (葉明功) told a press conference in Taipei.
Yeh said that while only five of the firms are based in Taipei, together they acquired 5,422 cartons of the allegedly tainted oil, the third-largest volume purchased by an administrative region.
Of the 235 companies, 77 have confirmed use of the implicated ingredient to manufacture food products, ranging from scallion pancakes, glutinous rice dumplings and rice tube puddings, to cookies, breads and dumplings, Yeh said, adding that all 8,243.7kg of such items have been pulled off shelves and sealed.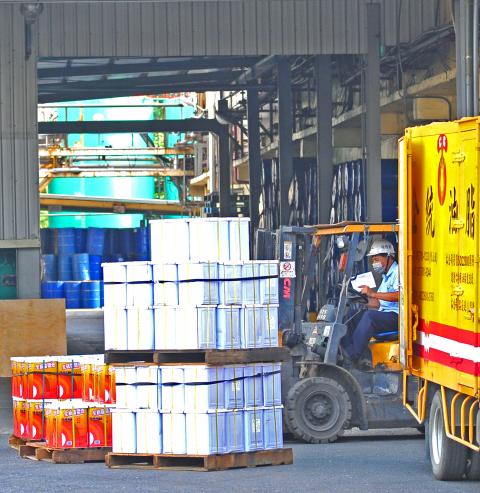 A worker at the Chang Guann Co factory in Greater Kaohsiung collects returned vats of oil yesterday.
Photo: Huang Chi-yuan, Taipei Times
"The administration, as well as health departments nationwide, are still investigating whether the other 158 establishments have also used the problematic oil, and if so, what food products it has been used to produce," Yeh added.
Chang Guann has been engulfed in the oil scandal since Thursday when it was found to have allegedly purchased 243 tonnes of recycled waste oil disguised as lard from an unauthorized factory in Pingtung County since February.
Chang Guann allegedly refined the waste oil before mixing it with processed lard, making 780 tonnes of the ingredient.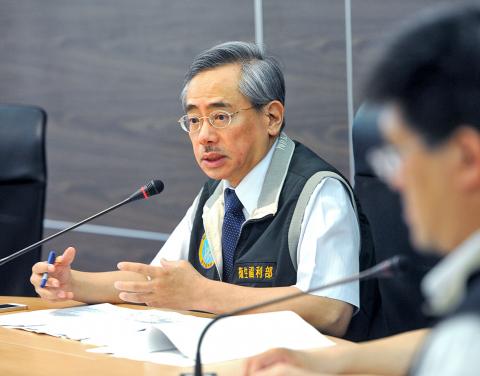 Minister of Health and Welfare Chiu Wen-ta, left, speaks during a press conference in Taipei yesterday about how products containing tainted oil from Chang Guann Co are to be removed from shelves within three days.
Photo: Fang Pin-chao, Taipei Times
The recycled waste oil was collected from restaurant fryers, discarded animal parts, fat and skin, the FDA said.
As of 10am yesterday, the FDA had seized 44,632kg of unsold fragrant lard oil from Chang Guann and recalled 320 cartons, or about 5,120kg, of the oil.
Yeh said samples of the recycled waste oil and Chang Guann's problematic product were sent to an FDA laboratory yesterday morning to test for heavy metals, aflatoxin and benzopyrene, a probable cancer-causing agent.
"We have instructed our lab staff to complete the tests quickly and make the results available by Monday. In the meantime, we will endeavor to find out and remove all potentially contaminated food products from shelves around the country within three days... so the public can have peace of mind over the Mid-Autumn Festival," Yeh said.
Chang Guann faces a maximum fine of NT$88 million (US$2.93 million) if it is found to have been aware of the oil's history before processing it for use as an edible oil, Yeh said.
During the press conference, Minister of Health and Welfare Chiu Wen-ta (邱文達) reiterated the ministry's determination to crack down on food safety irregularities.
"To achieve that goal, the central government has established an inter-ministerial task force to deal with the inferior lard scandal; mobilized the FDA and health departments nationwide to trace, remove and seize potentially tainted products; urge food companies that have used the problematic lard oil to immediately report to health authorities or face a fine not exceeding NT$3 million; and has brought together a group of specialists to discuss potential health repercussions from consumption of recycled waste oil," Chiu said.
Meanwhile, school authorities scrambled yesterday to pull products involved in the latest food safety scandal from school meals.
The Ministry of Education yesterday ordered that another Chang Guann oil product, marketed as deep-frying oil, be suspended from use at schools after finding that it was in use at more than 100 elementary and junior-high schools in Taipei, as well as at one private university in Southern Taiwan.
The ministry's department of planning head Wang Chun-chuan (王俊權) said that although the item is not on the list of problematic products, the ministry issued the directive because of food safety concerns, ordering that all student lunch providers stop using Chang Guann's oil products.
The deep-frying oil is used by food companies that prepare lunch for elementary and junior-high school students, while a delicatessen at the university used it for food processing.
He said that should food products at school canteens be found to have been manufactured using questionable oil products or contain ingredients prepared with such products, they are also to be banned.
He urged the Ministry of Health and Welfare to compile a list of nonconforming products and make the information available to the public as soon as possible, so that schools can ban the products on their own initiative.
Additional reporting by Rachel Lin
Comments will be moderated. Keep comments relevant to the article. Remarks containing abusive and obscene language, personal attacks of any kind or promotion will be removed and the user banned. Final decision will be at the discretion of the Taipei Times.