US accuses Chinese jet of 'dangerous intercept'
'UNPROFESSIONAL': A Chinese fighter jet made a 'barrel roll' over the top of a US Navy aircraft off China's Hainan Island, and showed its weapons, the US said
US President Barack Obama's administration on Friday accused a Chinese fighter jet of conducting a "dangerous intercept" of a US Navy surveillance and reconnaissance aircraft off the coast of China in international airspace — the fourth such incident since March.
Pentagon press secretary Rear Admiral John Kirby said Washington protested to the Chinese military through diplomatic channels, calling the fighter pilot's actions "unsafe and unprofessional."
US officials said this is at least the second formal complaint US diplomats have filed with the Chinese over these military actions in recent months.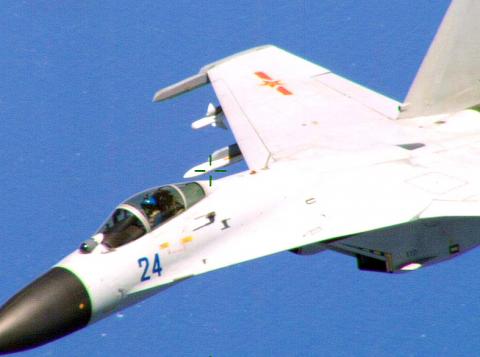 This image obtained August 22, 2014, courtesy of the Department of Defense shows a Chinese fighter jet in a photo taken by a US Navy P-8 crew. A Chinese fighter jet flew perilously close to a US military aircraft in international airspace this week in a "very dangerous" incident east of China's Hainan Island, the Pentagon said Friday.
Photo: AFP
At a news briefing at Martha's Vineyard, Massachusetts, US Deputy National Security Adviser for Strategic Communications Ben Rhodes called the intercept "a deeply concerning provocation" and suggested it could set back efforts to improve relations.
"What we've encouraged is constructive military-to-military ties with China and this kind of action clearly violates the spirit of that engagement," Rhodes told reporters.
US officials said it appears that the same Chinese military unit out of a base on Hainan Island was responsible for similar aggressive "close intercepts" in March, April and May. The officials refused to provide any details of the previous incidents, but said the US filed a similar formal complaint with the Chinese in May.
The officials spoke on condition of anonymity because they were not authorized to discuss the previous incidents publicly.
Kirby said the maneuvering by the Chinese jet on Tuesday posed a risk to the safety of the US air crew, was "inconsistent with customary international law" and complicates efforts to improve military-to-military relations, which are often strained.
Kirby said the Chinese jet made several close passes by the US Navy P-8 Poseidon plane, coming within 9m of it at one point. He said the Chinese jet did a "barrel roll" maneuver over the top of the Poseidon at one point and also passed across the nose of the navy plane, exposing the belly of the fighter in a way apparently designed to show that it was armed.
Kirby said it happened about 217km east of China's Hainan Island.
Comments will be moderated. Keep comments relevant to the article. Remarks containing abusive and obscene language, personal attacks of any kind or promotion will be removed and the user banned. Final decision will be at the discretion of the Taipei Times.