HK rally against Occupy welcomes non-residents
PADDED OPPOSITION: Retirees from Guangdong and runners were counted alongside Hong Kongers who protested against the pro-democracy campaign
Tens of thousands gathered yesterday in sweltering heat in Hong Kong to protest against a pro-democracy campaign that has threatened to shut down the territory's financial district, exposing a deepening rift over political reforms in the former British colony.
The rise in tit-for-tat street protests between pro-Beijing and pro-democracy groups accents the challenges China faces in shaping Hong Kong's political future.
Backed largely by Beijing-friendly groups, Hong Kong's Alliance for Peace and Democracy says it "desires peace and no violence" and has denounced the pro-democracy Occupy Central movement that has said it would lock down the city center if Beijing does not allow truly democratic elections for a chief executive in 2017.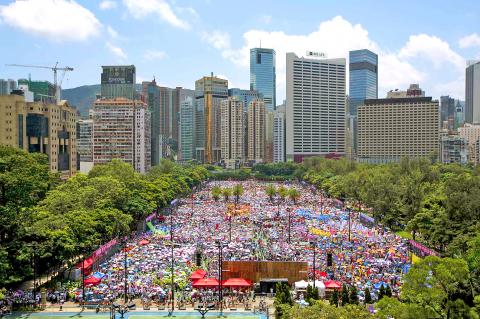 Thousands of people, including retirees bused in from Chinese provinces, march in the streets yesterday to demonstrate against the pro-democracy Occupy Central campaign in Hong Kong.
Photo: Reuters
"We want to show that the march does not have to be violent and angry. It can be happy," former Hong Kong radio host and spokesman for the alliance Robert Chow said.
The group says it has so far collected close to 1.5 million signatures, including that of Hong Kong Chief Executive Leung Chun-ying (梁振英), saying the "illegal" Occupy campaign would tarnish Hong Kong's reputation and hurt business.
It was not possible to independently verify the claim, which exceeded the almost 800,000 votes in Occupy Central's unofficial poll on democracy in June.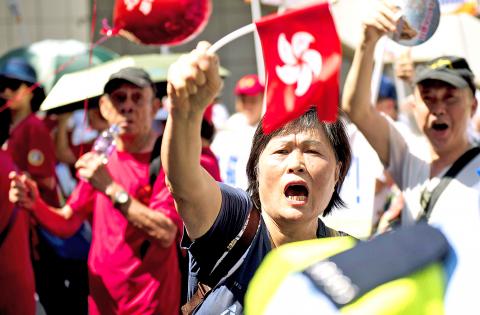 A woman holding a Hong Kong flag shouts as she takes part in a pro-Beijing rally yesterday in Hong Kong.
Photo: AFP
The campaign kicked off early yesterday with a run through the center of Hong Kong that drew about 1,500 people in temperatures as high as 30°C, organizers said.
The rally was overshadowed by speculation that some business groups had pressured people to take part.
One Chinese participant surnamed Chen, who is in her 60s, said some people attended simply because they like running.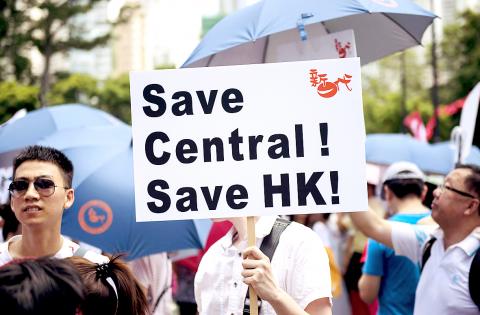 People take part in a pro-Beijing rally in Hong Kong yesterday.
Photo: AFP
"I bumped into a friend. She is running with colleagues from a property-management firm. She said her firm encouraged her to run and she took part because she likes running," she said.
More people, mostly groups of elderly people, showed up later in the morning to offer a flower "for peace," with different groups wearing the same colored T-shirts and hats.
Occupy Central has said its movement is peaceful, demanding a "genuine choice" for Hong Kong's 5 million eligible voters.
"We do not support Occupy Central because it will bring trouble and instability to the city," retiree Law Kwai-wing, 77, said, adding that he had traveled across the border from China's Guangdong Province as part of a bus tour organized by the pro-Beijing Federation of Trade Unions (FTU).
The group planned to stay for less than an hour before returning across the border for lunch, which tour members would buy for themselves, he added.
Many participants said that they had been provided with free transportation by political and business groups. In one district, about 150 people boarded buses organized by the Hong Kong Livestock Industry Association.
In a WhatsApp message seen by reporters, people were offered HK$350 (US$45) to attend the rally "for five hours." However, the message sender declined to provide their name or background.
Alliance spokesman Chow dismissed such messages as fake and attempts to discredit the campaign.
Comments will be moderated. Keep comments relevant to the article. Remarks containing abusive and obscene language, personal attacks of any kind or promotion will be removed and the user banned. Final decision will be at the discretion of the Taipei Times.