Torrential rain, strong winds forecast
TYPHOON DAY: As of press time, authorities said work and classes would be canceled almost nationwide today. The public was warned to stay off mountain trails
Torrential rain and strong winds are forecast nationwide today after Typhoon Matmo's expected landfall on the nation's east coast early this morning.
By 7:30pm yesterday, the center of the typhoon was 220km southeast of Hualien and moving northwest at 18kph, while the radius had expanded from 180km to 200km.
The Central Weather Bureau said that the accumulated rainfall in the mountainous areas of Yilan and Hualien counties could top 900mm.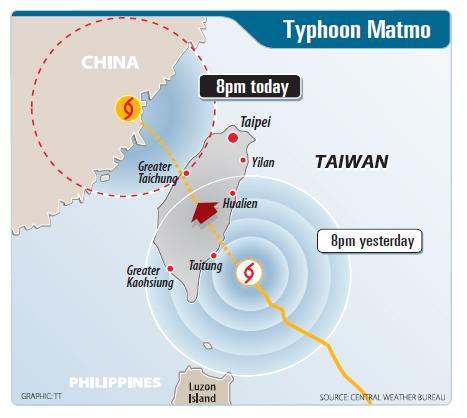 The mountainous areas of Greater Taichung and Greater Kaohsiung, as well as Nantou, Chiayi and Pingtung counties, could have accumulated rainfall reaching 800mm, it said.
Bureau forecaster Luo Ya-ying (羅雅尹) said the outer radius of the storm reached Taitung at 2pm, adding that the wind on Lanyu (蘭嶼, also known as Orchid Island) had reached the maximum Level 17 on the Beaufort scale.
The bureau also measured Level 10 winds in Taitung County's Chenggong Township (成功).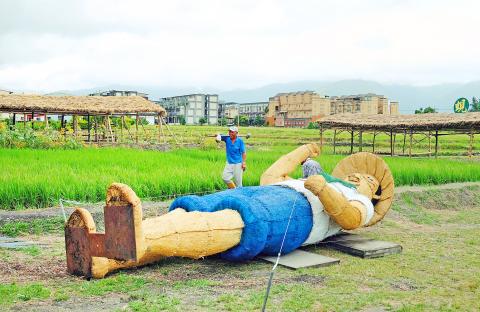 A worker yesterday walks past a 6.5m tall scarecrow that has been secured to the ground at an organic farm in Shanhsing Townchip, Yilan County, as Typhoon Matmo approaches eastern Taiwan.
Photo: AFP
At press time, cities and counties nationwide had announced the cancelation of work and classes today, except for Matsu.
"We estimate that the center of the typhoon will move out of Taiwan proper on Wednesday evening," Luo said.
"Both the sea and land alerts for the typhoon could be lifted by early Thursday morning," Luo said.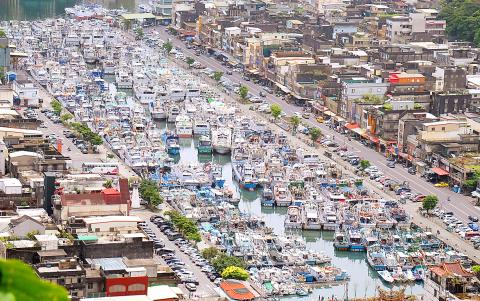 Hundreds of fishing boats yesterday seek shelter in Yilan County's Nanfangao harbor as Typhoon Matmo approaches eastern Taiwan.
Photo: AFP
TransAsia Airways announced last night that it would cancel all of its flights to Hualien today.
Other domestic flights departing before 1pm will be canceled as well, it said.
The airline said that it would cancel some international flights, including Flight GE606 from Taiwan Taoyuan International Airport to Tokyo, while Flight GE865 to Jeju, South Korea, would be delayed by two hours and Flight GE3681 to Okinawa by three hours.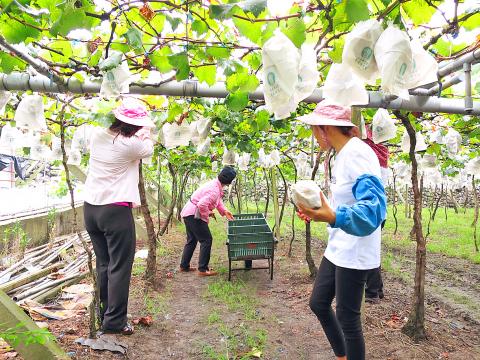 Farmers in Nantou County's Sinyi Township yesterday harvest grapes ahead of the arrival of Typhoon Matmo this morning.
Photo: Liu Pin-chuan, Taipei Times
Mandarin Airlines said that all domestic flights departing before 2pm today would be canceled and Uni Air said all its flights to Matsu would be canceled as well.
Taoyuan International Airport Corp said that 21 international flights were affected by the approaching typhoon between 12am and 7pm yesterday.
People scheduled to travel today are advised to contact their airlines or travel agents for updated information.
Meanwhile, the Taiwan Railways Administration last night canceled some train services between Greater Kaohsiung and Taitung, Taipei and Hualien and Hualien and Taitung, as well as on some branch lines.
At press time last night, both the Taiwan Railways Administration and Taiwan High Speed Rail Corp had yet to announce if there will be any changes to today's services.
The Directorate-General of Highways closed some highways last night, including the Suhua Highway and Alishan Highway.
In addition, several festivals have been canceled and all of the nation's forest parks have been closed.
The Alishan Forest Railway will not run today, the Forestry Bureau said.
It also warned the public not to visit the parks or to go on mountain trails.
The Yilan International Children's Folklore and Folkgame Festival was closed yesterday.
The Yilan Lohas International Festival canceled its evening performances for yesterday and today, while the Luodong Art Carnival canceled its evening shows for the next three days, starting last night.
The Taiwan International Balloon Fiesta in Taitung County also closed yesterday.
The Kenting International Hot Air Balloon Festival and Hualien International Hot Air Balloon Fiesta said they would be closed yesterday and today.
Boat services between Donggang (東港) and Liouciou townships (琉球) in Pingtung County were suspended at noon yesterday.
Boat services between Taitung and Lanyu were also suspended yesterday and today.
Additional reporting by CNA
Comments will be moderated. Keep comments relevant to the article. Remarks containing abusive and obscene language, personal attacks of any kind or promotion will be removed and the user banned. Final decision will be at the discretion of the Taipei Times.