Israel threatens ground offensive as rockets keep flying
Hamas has officially told Cairo that it rejects an Egyptian-proposed Gaza ceasefire, a spokesman for the Islamist group said yesterday.
"The outcome of discussions within the internal institutions of the movement was to reject the proposal and therefore, Hamas informed Egypt last night it apologizes for not accepting it," spokesman Sami Abu Zuhri said.
Hamas' armed wing had already spurned the Egyptian plan on Tuesday, and Israel, which briefly halted its Gaza offensive, resumed attacks after cross-border rocket fire from the Palestinian territory persisted.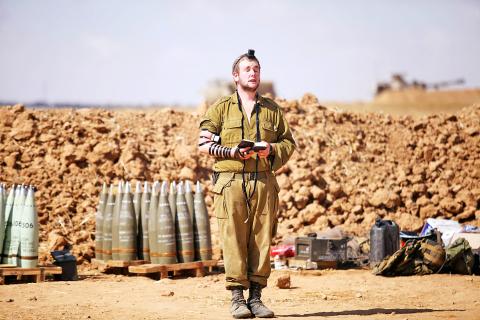 An Israeli soldier prays next to shells from an artillery unit deployed near Israel's border with Gaza as fighting between the two sides continued yesterday.
Photo: EPA
Jerusalem yesterday urged the evacuation of several Gaza Strip areas where more than 100,000 people live, threatening ground operations.
Authorized by Israeli Prime Minister Benjamin Netanyahu's security Cabinet to escalate an eight-day-old offensive, the military said it had sent out evacuation warnings in northeastern Gaza.
"Failure to comply will endanger your lives and the lives of your family," said recorded phone messages received by residents of Shejaia and Zeitoun districts, which sprawl out toward the border with Israel and have more than 100,000 residents.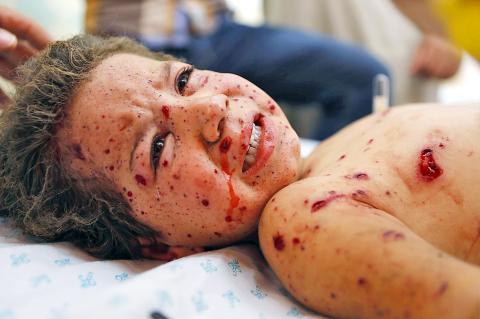 A wounded Palestinian child cries while receiving medical care at a hospital in Khan Yunis in the southern Gaza Strip yesterday after an Israeli military strike.
Photo: AFP
Israeli experts predicted overland raids to destroy command bunkers and tunnels that have allowed the outgunned Palestinians to withstand air and naval barrages on Gaza and keep rockets flying.
Israeli shelling attacks killed at least seven Palestinians earlier in the day, according to Gaza health officials who said the death toll in the enclave had risen to 202 and that most of the dead were civilians.
Israel said 26 rockets were fired at it from Gaza, including at Tel Aviv. Some were shot down by the Iron Dome interceptor, while others struck without causing casualties, emergency services said.
World powers urged calm, worried about spiraling casualties in Gaza, one of the world's mostly densely populated areas.
"The direction now is to continue air strikes and, if need be, enter with ground forces in a tactical, measured manner," an Israeli official said after the security Cabinet met overnight.
Comments will be moderated. Keep comments relevant to the article. Remarks containing abusive and obscene language, personal attacks of any kind or promotion will be removed and the user banned. Final decision will be at the discretion of the Taipei Times.