Fighting rages on as Gaza truce fails
Six hours after agreeing to an Egypt-proposed truce that failed to halt Hamas attacks, Israel resumed air strikes in the Gaza Strip yesterday.
"Hamas has fired 47 rockets since we suspended our strikes in Gaza [yesterday morning]. As a result, we have resumed our operation against Hamas," an Israeli military statement said.
Under a blueprint announced by Egypt, which is at odds with Hamas, a mutual "de-escalation" of the week-old fighting was to have begun at 9am, with hostilities ceasing within 12 hours.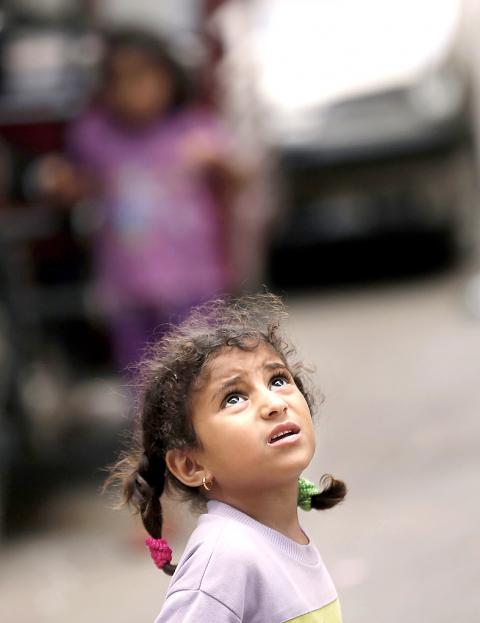 A Palestinian girl looks up at an Israeli drone flying over her home in Gaza City yesterday.
Photo: AFP
Hamas' armed wing, the Izz el-Deen al-Qassam Brigades, rejected the ceasefire, saying its battle with Israel would "increase in ferocity and intensity," but top Hamas official Moussa Abu Marzouk said from Cairo that the movement, which is seeking a deal that would ease border restrictions imposed by Egypt and Israel, had made no final decision on the proposal.
Live broadcasts showed Israel's Iron Dome anti-missile system intercepting rockets over Ashdod, where a factory was hit. Emergency services said no one was hurt.
Sirens also sounded in areas up to 130km north of the Gaza Strip. The al-Qassam Brigades claimed responsibility for some of the rockets.
Speaking in Vienna, US Secretary of State John Kerry supported Israel: "I cannot condemn strongly enough the actions of Hamas in so brazenly firing rockets, in multiple numbers, in the face of a goodwill effort [to secure] a ceasefire."
Gaza health officials said at least 184 Palestinians, most of them civilians, have been killed in eight days of fighting, the worst Israel-Palestinian flare-up in two years.
Israeli Prime Minister Benjamin Netanyahu, whose security Cabinet voted 6-2 earlier yesterday to accept the truce, had cautioned that Jerusalem would respond strongly if rockets continued to fly.
As the Israeli strikes resumed, an Israeli official, said: "The prime minister and the defense minister have ordered the Israeli armed forces to take powerful action against terrorist targets in Gaza."
Comments will be moderated. Keep comments relevant to the article. Remarks containing abusive and obscene language, personal attacks of any kind or promotion will be removed and the user banned. Final decision will be at the discretion of the Taipei Times.