Casualties rise as Israeli assault enters seventh day
The Israeli military said it downed a drone launched by Gaza militants yesterday, the first time it encountered an unmanned aircraft since the start of its offensive last week, as Israeli airstrikes killed four more Palestinians in the coastal strip.
Israel began its campaign against militants in the Hamas-controlled Gaza last Tuesday, saying it was responding to heavy rocket fire from the densely populated territory. The military says it has launched more than 1,300 airstrikes since then, while Palestinian militants have launched nearly 1,000 rockets.
The outbreak of violence followed the kidnappings and killings of three Israeli teenagers in the West Bank last month, as well as the subsequent kidnapping and killing of a Palestinian teenager in an apparent revenge attack, along with Israeli raids against Hamas militants and infrastructure in the West Bank.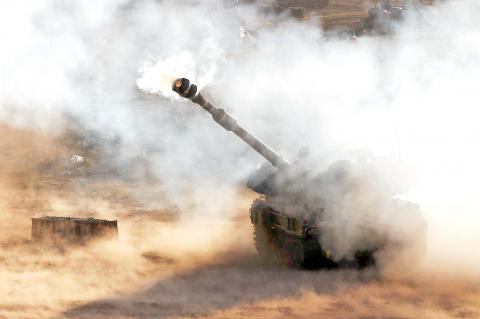 An Israeli tank near Israel's border with the Gaza Strip yesterday fires a 155mm projectile toward targets in the Palestinian enclave. Israel kept up its punishing raids on Gaza yesterday, but held off from a threatened ground incursion as the world intensified efforts to broker a truce.
Photo: AFP
The Palestinian Ministry of Health Ministry in Gaza has said that 172 people died in Israeli air attacks, including dozens of civilians, not counting yesterday's casualties.
There have been no Israeli deaths as a result of Hamas rocket launches, though several people have been wounded, including a teenage boy who was seriously injured by rocket shrapnel on Sunday.
The Israeli military said the drone was shot down in mid-flight by a Patriot surface-to-air missile along the southern Israeli coastline, near the city of Ashdod. In a statement to media, Hamas claimed it launched three drones yesterday, though the military said it was only one.
Hamas said it has developed two types of drones: one for intelligence gathering and one for delivering munitions. It also said it lost contact with one of the drones and that the targets included the Israeli Ministry of Defense compound in Tel Aviv.
It was the first time the militant group publicly acknowledged it has drones in its arsenal.
The use of drones with an offensive capacity could inflict significant casualties, something the rockets from Gaza have failed to do, largely because of the success of the Israeli military's "Iron Dome" air defense system in shooting them down.
Meanwhile, Israel continued its aerial attacks on Gaza, with four Palestinians reported killed in two Israeli airstrikes on the southern city of Khan Younis, officials from the city's European Hospital said.
The officials said Saddam Moamar, his wife, Hanadai, and his father, Mousa were killed by an airstrike that hit their house. Their neighbor, Maher Abu Mor, was killed in another airstrike at his home, the officials said.
In another incident yesterday, Israeli troops shot dead a Palestinian man during clashes with stone-throwers in the West Bank yesterday, both sides said.
Activists said Israel also detained dozens of Palestinians overnight in the West Bank and East Jerusalem in part of a crackdown on suspected militants stepped up last month after the abduction and killing of three Jewish seminary students.
A Palestinian witness said Munir al-Badarin, 21, and other young men were throwing rocks at Israeli soldiers outside the West Bank village of Samoa when they were fired on by another army unit.
"They [the Israeli troops] were hiding and ducking to the ground and when we showed up they rose from their place and began firing at us," the witness said. "We escaped and soon we discovered that Munir was missing."
Ambulance driver Abdel-Mua'ez al-Jarsawi told reporters he was summoned to Samoa, where soldiers initially held him back as they tried to resuscitate al-Badarin, who was shot twice in the lower back. Al-Jarsawi said he took al-Badarin to a nearby Palestinian hospital, where the young man died.
The Israeli army has confirmed the death and said it was looking into the incident.
Comments will be moderated. Keep comments relevant to the article. Remarks containing abusive and obscene language, personal attacks of any kind or promotion will be removed and the user banned. Final decision will be at the discretion of the Taipei Times.