Israel urges evacuation as offensive continues
Israeli strikes on Gaza killed a teenager and a woman yesterday, medics said, raising the overall death toll to 166 as the punishing air campaign entered its sixth day.
One strike on the northern town of Jabaliya struck a house, killing a 14-year-old boy, emergency services spokesman Ashraf al-Qudra said.
Shortly afterward, another strike killed a woman in the Maghazi refugee camp in central Gaza, he said. A man was killed in a raid on Beit Hanun in northern Gaza, where the Israeli army has warned it will sharply escalate its offensive and has urged residents to flee.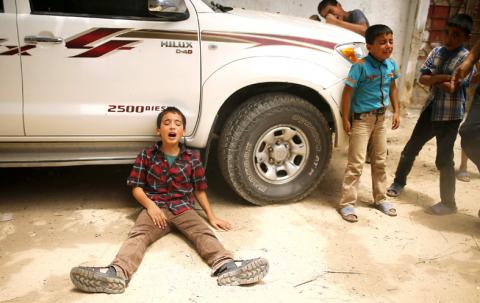 The son, left, of one of the members of Tayseer Al-Batsh's family, who hospital officials said was killed in an Israeli air strike, mourns during their funeral in Gaza City yesterday.
Photo: Reuters
Elsewhere, another person died from injuries sustained in an earlier strike, Qudra said, giving an overall death toll of 166.
More than 1,000 people have been wounded, he added.
Witnesses in the southern city of Rafah also reported seeing gunmen killing a man in the middle of the street in what appeared to be the execution of someone suspected of collaborating with Israel. There was no immediate claim of responsibility from any of Gaza's armed factions.
Neither Israeli nor Palestinian militants show signs of agreeing to a ceasefire, despite calls by the UN Security Council and others to end the increasingly bloody six-day-long offensive. With Israel massing tanks and soldiers at Gaza's borders, some fear that could signal a wider ground offensive and heavy casualties.
"We don't know when the operation will end," Israeli Prime Minister Benjamin Netanyahu told a Cabinet meeting yesterday. "It might take a long time."
Early yesterday, Israeli troops launched a brief raid into northern Gaza to destroy what Jerusalem described as a rocket launchsite, an operation the military said left four soldiers slightly wounded.
The Israeli Air Force later dropped leaflets warning residents to evacuate their homes ahead of what an Israeli military spokesman described as a "short and temporary" campaign against northern Gaza to begin after 12pm. The area is home to at least 100,000 people.
It was not clear whether the attack would be confined to stepped-up airstrikes or whether it might include a sizeable ground offensive — something that Israel has so far been reluctant to undertake.
As the ultimatum drew near, hundreds fled Beit Lahiya, one of the communities the Israeli announcement affected. Some raced by in pickup trucks, waving white flags.
"They are sending warning messages," Gaza resident Mohammad Abu Halemah said.
"Once we received the message, we felt scared to stay in our homes. We want to leave," he added.
Yesterday, Palestinians with foreign passports began leaving Gaza through the Erez border crossing. Israel, which is cooperating in the evacuation, says 800 Palestinians living in Gaza have passports from countries including Australia, the UK and the US.
US citizen Ahmed Mohana said he had mixed feelings about leaving friends and family behind in the troubled Gaza Strip.
"It is very hard, it is very tough," he said. "We are leaving our family, our relatives and brothers and sisters in this horrible situation — we have to do what we have to do."
Comments will be moderated. Keep comments relevant to the article. Remarks containing abusive and obscene language, personal attacks of any kind or promotion will be removed and the user banned. Final decision will be at the discretion of the Taipei Times.