Military extends UAV deployment area
US WORRY? A military official said that the US was concerned over the development of the drone program and asked that the defense ministry brief it on the project
The military said it is able to effectively detect military deployments in China through the use of unmanned aerial vehicles (UAVs), after it expanded detection zones from airspace over eastern and southern Taiwan to airspace over the Taiwan Strait.
According to a military official, who wished to remain anonymous, the US has expressed concern over how the UAV project has developed and military missions the drones are commissioned to perform.
The US has demanded that the Ministry of National Defense send specialists to brief the US Department of Defense on the project before a delegation was to head to the US for a meeting about bilateral cooperation on military issues involving high-level officials from both countries, the military official said.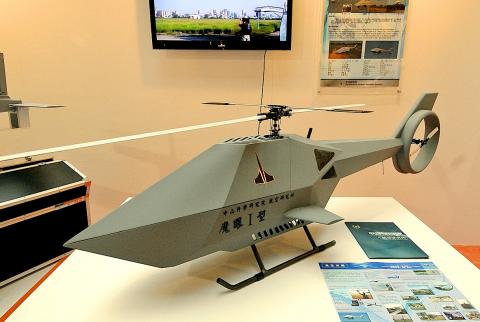 An unmanned aerial vehicle built by the National Chungshan Institute of Science and Technology is displayed at last year's Taipei Aerospace and Defense Technology Exhibition at the Taipei World Trade Center.
Photo: Fang Pin-chao, Taipei Times
A UAV launched from a base in western Taiwan would be able to detect military movement in China's southeast coastal area, he said.
Given Taiwan's proximity to China, the capability of the UAVs to detect military deployments on the other side of the Taiwan Strait is highly valued by the US, he said.
Despite the US having sophisticated UAVs that can fly long distances to access the area, there are concerns within the US military that such missions would be costly, as well as there being political and military issues preventing its use of UAVs in the area, he added.
The UAV development program was undertaken by the National Chungshan Institute of Science and Technology. It has delivered 32 UAVs to the army.
In addition to Taimali (太麻里) in Taitung County, where the UAVs are based and training exercises are carried out, the ministry has been in talks with the Civil Aeronautics Administration over the possibility that part of the Hengchun airport in Pingtung could be used as another training base for the drones.
According to sources from the military, the air force's airspace training area is within the range of missiles deployed in southeast China, making it impossible for the air force to carry out missions in the areas that the UAVs can access.
The military said it was still deliberating whether it would deploy the UAVs in western Taiwan.
Comments will be moderated. Keep comments relevant to the article. Remarks containing abusive and obscene language, personal attacks of any kind or promotion will be removed and the user banned. Final decision will be at the discretion of the Taipei Times.