'Abandonment' comment from Hau criticized
HISTORICAL LAPSE? Both KMT and DPP politicians chastised the Taipei mayor for talking about Taiwan having been abandoned by 'the motherland'
Taipei Mayor Hau Lung-bin's (郝龍斌) comments about Taiwan being "abandoned by its motherland" have prompted criticism from politicians across party lines, who said the comments came across as inappropriate.
Hau met with China's Taiwan Affairs Office Minister Zhang Zhijun (張志軍) in Beijing on Sunday.
In response to media queries on his views about cross-strait contentions, Hau said: "Taiwan had been abandoned by its motherland" and it felt hurt and wanted emotional distance.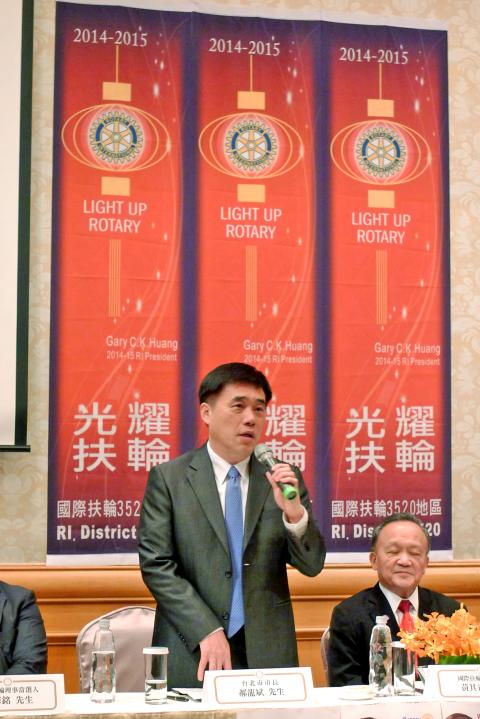 Taipei Mayor Hau Lung-bin speaks to a Taiwan Rotary Club Association meeting in Taipei yesterday.
Photo: Yu Pei-ju, Taipei Times
Hau, known for supporting the idea that both sides of the Taiwan Strait belong to the Zhonghua minzu (Chinese ethnic group, 中華民族), added that the nation's 23 million people have a consensus that they belong to the Republic of China (ROC) and that both sides of the Taiwan Strait should learn to view things from different perspectives.
Chinese Nationalist Party (KMT) Legislator Lo Shu-lei (羅淑蕾) said Hau must have been referring to the Treaty of Shimonoseki, but was confused.
The treaty ended the First Sino-Japanese War between the Qing Dynasty and the Japanese empire and ceded Taiwan to Japan.
The treaty was signed on April 17, 1895, and entered into force on May 8, 1895.
Lo said that when the treaty was signed, Qing official Lee Hongzhang (李鴻章) told Chinese Empress Dowager Cixi (慈禧太后) that Taiwan was a "backward territory where flowers do not bloom, the birds do not sing, the men are heartless and the women without love."
"The Qing Dynasty is not our motherland. We overthrew the Qing Dynasty. Taiwan is an independent nation and no longer has feelings of being abandoned," Lo said.
Taipei City Councilor Hsu Chia-ching (徐佳青) of the Democratic Progressive Party criticized Hau's "slanted historical views."
When asked for a comment, KMT Taipei City mayoral candidate Sean Lien (連勝文), said everyone in the ROC has their own thoughts on China, but did not elaborate further.
New Taipei City Mayor Eric Chu (朱立倫) said he hoped people would not judge things purely from an ideological perspective, adding that there were many things over the course of 400 years of history to reconsider.
Both sides of the Strait need to face up to the bad blood between them with seriousness and should consider the factors that could explain why Taiwanese regard China and its people with such hostility, he added.
Meanwhile, Hau yesterday said that he was speaking of historical facts from more than a century ago.
He said that the "motherland" refers to the ROC, adding that his comments were made in private and had been blown out of proportion.
The ROC was founded on Jan. 1, 1912 — 17 years after the Treaty of Shimonoseki was signed.
Hau met with Zhang as he wrapped up a four-day trip to Beijing, his first official visit to the city. He was there to take part in a travel exhibition.
Comments will be moderated. Keep comments relevant to the article. Remarks containing abusive and obscene language, personal attacks of any kind or promotion will be removed and the user banned. Final decision will be at the discretion of the Taipei Times.