China blamed for hacking attacks
While normally critics and rivals, representatives from different media outlets and academics yesterday stood with the Chinese-language Apple Daily, after the newspaper's Web sites were paralyzed by massive hacker attacks earlier in the week.
"Freedom of expression is so important that an attack on someone's freedom of expression is an attack on everyone's freedom of expression," Flora Chang (張錦華), a professor at National Taiwan University's Graduate Institute of Journalism, told a news conference. "We are not here to voice our support for Apple Daily, rather, we're here to show our support for the freedom of expression and the freedom of the press. Apple Daily was attacked today, but it could be anyone tomorrow."
Hackers initiated a denial-of-service attack first on the Apple Daily Hong Kong Web site on Tuesday and then on the Apple Daily Taiwan site on Wednesday, involving up to 40 million requests per second.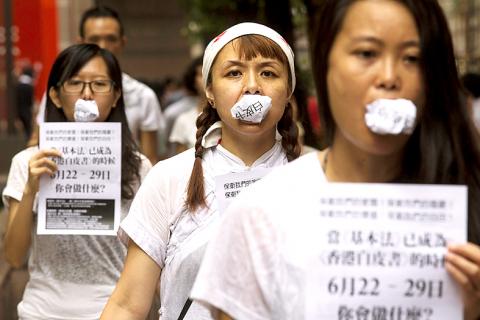 Local artists bite photo copies of the white paper "One country, two systems", released earlier by Beijing on Hong Kong`s control, to symbolize people`s speech has been disregarded and to urge people to vote in an unofficial referendum in Hong Kong yesterday.
Photo: Reuters
Although no direct evidence has been found, many that the hackers are Chinese state-sponsored operatives, due to the scale of the attacks.
The attacks happened after Apple Daily Hong Kong presented coverage of the pro-democracy campaign in Hong Kong for direct voting in elections for the special administrative district's chief executive.
Attacks of similar scale also hit a civilian-organized online electoral reform Web site.
Apple Daily Taiwan editor-in-chief Jesse Ma (馬維敏) said that while it is not new for the Web sites to be targeted, "we've never been hacked on such a large scale."
He said the newspaper reported the attacks to the police immediately and is working closely with them in their investigation, adding that the attacks had increased in severity, with hackers invading the system and changing passwords.
"I know some people are tying to threaten us and I admit that these attacks have created some trouble for us," Ma said. "But I want to say that, if the intention is to tell us to refrain from reporting certain things, it's not possible."
Li Jung-shian (李宗憲), a professor at National Cheng Kung University's Department of Electrical Engineering, said the public and the government needed reminding about the danger of opening up the telecommunications industry to China.
"I hope that what has happened to Apple Daily gives government officials a chance to reconsider the policy to allow China-based telecommunication companies into Taiwan, which is included in the cross-strait services trade agreement and the free economic pilot zones project," Li said. "Opening up to our biggest enemy would only give them an opportunity to do more harm to us."
Lin Tsung-nan (林宗男), an electrical engineering professor at National Taiwan University, said: "Apple Daily is the first media outlet to be hacked on such a scale, but it won't be the last."
"Hackers from China could paralyze the Web site of a media outlet today, they could do it to banks to paralyze the financial sector and they could very well attack the information technology industry to paralyze it," Lin said. "This is why in March more than 700 academics signed a petition against opening up the telecommunications sector to China."
Two days after online news source Watchout launched a petition campaign to support Apple Daily and freedom of the press, more than 5,000 people and 15 media organizations, including the Liberty Times (the Taipei Times' sister newspaper), Business Today magazine and online news source NewTalk and the Chinese-language United Daily News released a separate statement to condemn the hacking incidents.
Meanwhile, in Hong Kong, more than half a million people have voted in the unofficial electoral reform poll, despite similar attacks, organizers said yesterday.
Online polling started on Friday at noon and by 3pm yesterday, 500,436 residents had taken part in the "civil referendum," which asks how voters would like to choose their next leader.
Participation in the informal ballot has already beaten all expectations, surprising even its organizers, the Occupy Central movement.
The pro-democracy group said before launching the exercise, which is to run until Sunday next week, that they were hoping for 300,000 people to take part.
The ballot allows registered permanent residents of the territory to vote through a Web site or on a smartphone app, and there are plans to open polling booths around the city today.
Comments will be moderated. Keep comments relevant to the article. Remarks containing abusive and obscene language, personal attacks of any kind or promotion will be removed and the user banned. Final decision will be at the discretion of the Taipei Times.