Keelung speaker released on bail
FREE AGENT? The KMT said the speaker, its candidate in a mayoral poll later this year, cannot yet be disciplined by the party, but the situation can change if he is detained
Keelung City Council Speaker Huang Ching-tai (黃景泰) was released on bail yesterday after prosecutors asked on Wednesday that he be detained on suspicion of influence peddling in a number of construction projects.
The prosecution on Wednesday asked the Keelung District Court to grant its request that Huang be detained. The request was rejected yesterday and Huang was released on NT$1.2 million (US$40,000) bail, but banned from traveling overseas.
The city council speaker was interrogated on suspicion of his involvement in pressuring Keelung City Government officials on construction projects.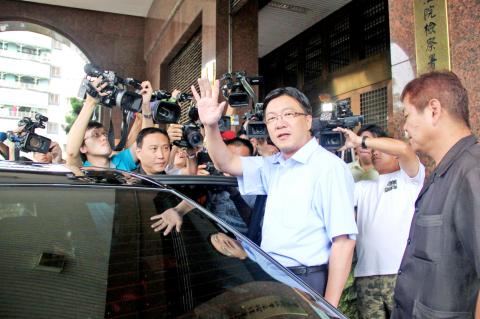 Keelung City Council Speaker Huang Ching-tai waves to the media in Keelung City yesterday morning after being released on bail of NT$1.2 million.
Photo: Wu Sheng-ju, Taipei Times
The prosecutors had found stashes of cash in New Taiwan dollar and Chinese Renminbi with an estimated total value of about NT$5 million in Huang's office on Tuesday.
The investigation team had immediately called for Huang's financial records, suspecting the wads of cash to have been bribes, but Huang claimed that the money is his election campaign fund.
Huang is the Chinese Nationalist Party's (KMT) candidate for the year-end Keelung mayoral election.
KMT spokesperson Charles Chen (陳以信) said yesterday morning that since Huang is currently not in detention, which would have cost Huang his KMT party membership and with it his candidacy, "there is no question about using party discipline at this stage."
However, the KMT might still lose its prospective Keelung mayoral aspirant, as the prosecutors lodged an appeal yesterday immediately after the court granted Huang bail.
The party said it would take measures to adjust to later developments in the case. If Huang is taken into custody, measures could include him being subjected to party discipline or his party membership being revoked, the party launching another primary or enlisting other possible candidates.
Former Presidential Office deputy secretary-general Lo Chih-chiang (羅智強) has been rumored to be one of the possible replacements.
Lo has caught the media's attention by saying on Facebook, writing about the matter, that "there is no such thing as a definite candidate." However, he declined to be specific on whether this "definite candidate" refers to Huang or himself.
While Charles Chen refused to comment on the expected impact or potential harm to the KMT's election effort incurred by Huang's case, KMT Legislator Liao Kuo-tung (廖國棟) was explicit in expressing his worries.
"The prospects are not looking good. So the party would definitely deal with it, rather than leaving decisions to [Huang's] personal will and causing further damage to the party," Liao said.
Comments will be moderated. Keep comments relevant to the article. Remarks containing abusive and obscene language, personal attacks of any kind or promotion will be removed and the user banned. Final decision will be at the discretion of the Taipei Times.