Premier disparages students who 'complain all day'
Premier Jiang Yi-huah (江宜樺) yesterday leveled indirect criticism at the students who took part in the Sunflower movement, insinuating that they are people who "complain all day long about the government" and "blame others for their failures."
Jiang made the comments as he addressed members of the Chinese National Association of Industry and Commerce at a breakfast meeting, telling the business leaders about his recent encounters with young entrepreneurs in various fields, such as information, communication, technology and agriculture.
"[In the entrepreneurs] I saw the future of Taiwan and the forces that drive its economic development. I didn't consider them to be uncompetitive as they are portrayed in the media and didn't hear them grumbling about the government," Jiang said. "Aside from the students who protested in the [Sunflower] movement, there are young people in every corner of the country who are full of ideas and energy, who want to go on adventures and make their endeavors successful, just like every one of you."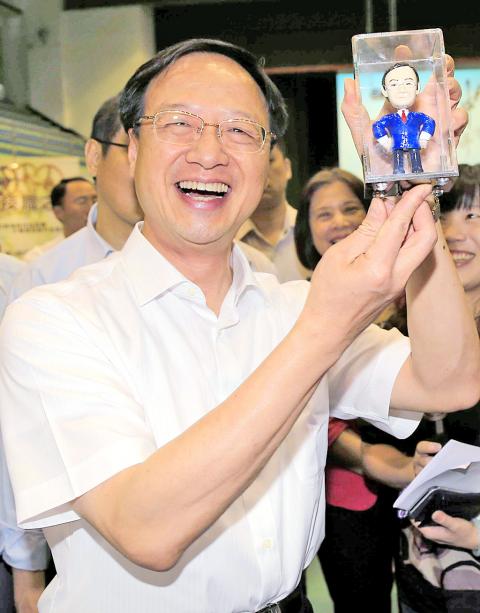 Premier Jiang Yi-huah yesterday holds up a 3D-printed figure of himself that the Chung Shan Industrial and Commercial School in Greater Kaohsiung gave him.
Photo: CNA
"They do not complain about the government all day. They are not like the young people [in the Sunflower movement] who blame others for their failure," the premier added.
Jiang said the young businesspeople he met gave him hope for the country's future and led him to realize that he has the responsibility to help Taiwan's youth make their dreams come true and, in doing so, lay a solid foundation for the nation's continued progress.
The Sunflower movement was sparked on March 18 by a student-led occupation of the Legislative Yuan in Taipei to protest against the government's handling of the cross-strait trade service agreement. It ended on April 10 when the activists voluntarily exited the legislative chamber.
Sunflower movement leaders Chen Wei-ting (陳為廷) and Lin Fei-fan (林飛帆) yesterday fired back at Jiang over his remarks, calling on the administration of President Ma Ying-jeou (馬英九) to own up to its failures.
Chen said that young Taiwanese have never been afraid to fall — had they been, they would not have risen time and again to challenge public officials' question-dodging, hollow statements and authorities' crackdowns on young protesters.
"We would like to ask Jiang not to attribute his failures to us [the Sunflower activists]," he said.
Although Chen called the tone of the premier's address at yesterday's meeting "cliched," saying that it is the same one adopted by Ma during his inaugural speech six years ago, the student activist said he found Jiang's remarks more insulting than the president's.
"At least Ma made an effort to tone down the comments he made by citing a few examples of businesses established by self-made young Taiwanese... Jiang only said: 'Students who didn't take part in the [Sunflower] movement,' without even bothering to cite any examples," Chen said.
Lin said the Ma administration is only willing to hold dialogue with a handful of capitalists who submit to its rule. Only a corrupt leader would keep out their citizens with barb wires and barricades, Chen said, dubbing the strategy "the ostrich theory."
Democratic Progressive Party Legislator Tuan Yi-kang (段宜康) said that the Chinese Nationalist Party's (KMT) categorizing of all young Taiwanese into either: "Sunflower movement participants" or "non-Sunflower movement participants" was ridiculous.
Tuan said that according to the KMT's "logic," the movement's participants are anti-government brats who are constantly whining, while their counterparts are hardworking, promising young men people who never shirk their responsibilities.
Comments will be moderated. Keep comments relevant to the article. Remarks containing abusive and obscene language, personal attacks of any kind or promotion will be removed and the user banned. Final decision will be at the discretion of the Taipei Times.